A group of 77 cat-loving volunteers were celebrated on Friday 16 August for their continued dedication to helping cats and kittens in Norfolk over the past 28 years.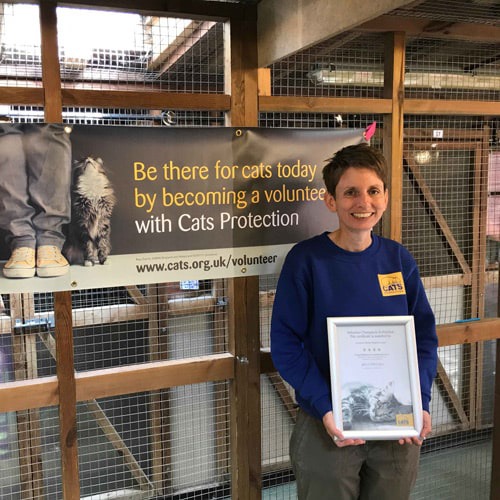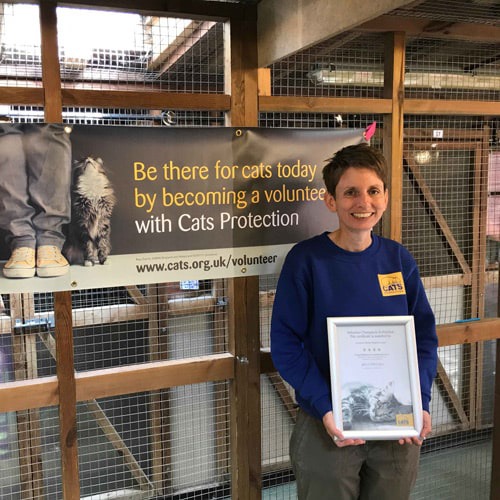 Cats Protection's Downham Market Adoption Centre held a recognition event for the volunteers at the National Trust's Peckover House, in Wisbech.
Led by the charity's Director of Operations, Mark Beazley and Adoption Centre Manager, Lindsay Tempest, 19 STARS badges were awarded to volunteers who have dedicated either one, five or 10 years to the charity.
STARS badges thank, celebrate and recognise volunteer groups and individual volunteers for their contribution to helping cats.
Since 1 January this year, 3,300 hours have been devoted by the centre's cat-loving volunteers.
Mark Beazley said: "I have been truly humbled by the contribution our volunteers have given to Downham Market Adoption Centre. Without them, the help that thousands of cats across the area have received would not have been possible. We hope the badges serve as a permanent reminder of our gratitude."
Despite the rainy weather, the celebration was followed by a guided tour of the gardens and a talk about Peckover's resident cats, both past and present.
Adoption Centre Manager, Lindsay Tempest, said: "In 2018, the Downham Market AC team helped nearly 1000 cats through rehoming, neutering and reunification. We simply would not be able to do this level of work, to the high standards we set, if it wasn't for our dedicated and talented volunteers.
"They don't always realise how much we appreciate their time and effort but recognition events like this give us the chance to formally say a heartfelt 'thank you' from us and the cats."
The centre's Volunteer Team Leader, Jenny Lambert, was also presented with an award for her help with leading the 77-strong group of volunteers to the highest level.
Jenny's role unites volunteers across the area and this year, is being supported by players of People's Postcode Lottery. Anyone interested in volunteering should contact Jenny directly on Norfolk.volunteering@cats.org.uk or by calling the centre on 01366 382311.
Lindsay added: "We would also like to thank players of People's Postcode Lottery whose support for both volunteering and rehoming enables us to nurture and celebrate our wonderful volunteers as well as ensure that every cat is found the best possible home."
More information about Cats Protection's Downham Market Adoption Centre, along with cats currently looking for homes, can be found here: www.cats.org.uk/downhammarket/adopt-a-cat
~ Ends ~
For media enquiries please contact media.office@cats.org.uk or call 01825 741 911
About Cats Protection
Cats Protection is the UK's leading feline welfare charity, helping around 200,000 cats each year through its national network of over 250 volunteer-run branches and 36 centres.
Cats Protection's vision is a world where every cat is treated with kindness and an understanding of its needs.
Cats Protection's registered charity number is 203644 (England and Wales) and SC037711 (Scotland). Founded as the Cats Protection League in 1927, the charity adopted the name Cats Protection in 1998. We ask that you please use the name Cats Protection when referring to the charity in all published material.
More information about the work of Cats Protection can be found at www.cats.org.uk
About People's Postcode Lottery
People's Postcode Lottery manages multiple society lotteries promoted by different charities and good causes. People play with their chosen postcodes for a chance to win cash prizes. A minimum of 32% from each subscription goes directly to charities and good causes across Great Britain and internationally -- players have raised £462 million so far. For details of the charities and good causes which are promoting and benefitting from the lottery draws, please visit www.postcodelottery.co.uk/good-causes/draw-calendar
It costs £10 a month to play and winning postcodes are announced every day. The maximum amount a single ticket can win is 10% of the draw proceed. For details, please visit www.postcodelottery.co.uk/prizes
New players can sign up to pay using direct debit by calling 0808 10 9 8 7 6 5. New players who sign up online at www.postcodelottery.co.uk can pay using direct debit, debit card or PayPal.
Postcode Lottery Limited is regulated by the Gambling Commission under licence numbers: 000-000829-N-102511 and 000-000829-R-102513. Registered office: Titchfield House, 69/85 Tabernacle Street, London, EC2A 4RR
Follow @PostcodePress