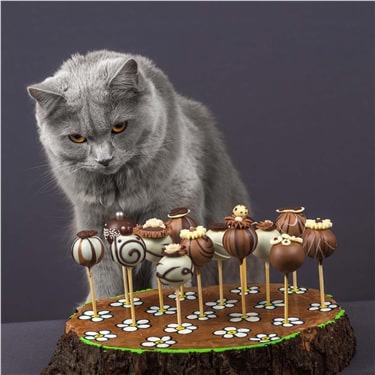 Ahead of World Chocolate Day on Saturday 7th July, a cat charity is warning of the dangers of feeding chocolate to cats.
While a standard 45 gram bar of white, dark or milk chocolate is a tasty treat for humans, Cats Protection says just two grams is toxic for cats because they do not metabolise theobromine as well as humans do.
"Theobromine acts as a stimulant to increase the heart rate and as a diuretic to increase the loss of bodily fluids," says Dr Vanessa Howie, the charity's Head of Clinical Services.
"Human beings would have to eat around 35 kilograms of chocolate in one sitting before the theobromine became toxic.
"However, theobromine sits in the bloodstream of cats for much longer and quickly accumulates to dangerous levels.
"A tiny amount of chocolate - not even as big as a square - is enough to do serious damage.
"It's important to keep chocolate out of your cat's reach, and if your moggy has eaten any chocolate then they should be taken to the vet straight away.
"Symptoms of chocolate poisoning include vomiting, diarrhoea, excessive urination, irregular heartbeat and seizures.
"The severity of these symptoms will depend on your cat's weight and how much chocolate they have eaten, but if you're worried then it's best not to wait for the signs to appear before taking them to the vet."
Cats Protection says there are plenty of safe alternatives out there around if owners want to give their cat a treat.
"It's fine to feed your cat a little boiled fish or boneless chicken, or indeed any treat that is specially formulated for cats. Keeping this in mind means we can all tuck into our favourite chocolate bar while making sure our pet cats remain happy and healthy." says Vanessa.
For further cat care advice, please visit www.cats.org.uk/cat-care/care-leaflets
ends
For media enquiries, please contact Cats Protection's Media Office on 01825 741 911 or email media.office@cats.org.uk