International 'Kiss a Ginger Day' (Saturday 12 January) encourages people to find their favourite redhead and give them a cheeky peck on the cheek.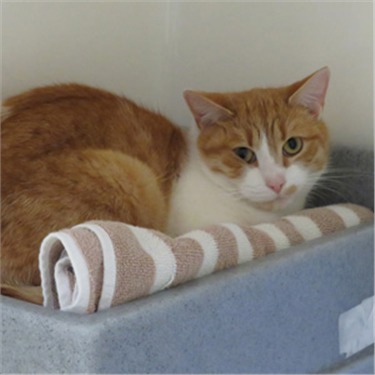 Cats Protection is taking the opportunity to highlight Peanut, a gorgeous ginger-and-white cat who is waiting patiently for a home at the charity's National Cat Adoption Centre. While Cats Protection does not advocate giving cats a big kiss, Peanut is looking for plenty of love and attention.
Peanut is finding life in the cattery quite unsettling as he is still only 18 months old. He is in desperate need of a calm and quiet home, with a patient owner, where he can relax and show his true loving character.
Daniel Cummings, Behaviour Officer for Cats Protection said: "It's better to wait for your cat to approach you rather than restraining your cat to lavish them with hugs and kisses as many cats will find this uncomfortable and unpleasant – there are many other ways to show love to your cat such as stroking, playing and slow blinking at them."
While in care, Peanut is looked after on a day-to-day basis by Cat Care Assistants (CCAs). Over the coming year, funds from People's Postcode Lottery are being used to support Volunteer Team Leader and CCA roles at Cats Protection's 35 centres across England, Scotland and Wales. Cat Care Assistants are responsible for hands-on care for the cats. This includes feeding and providing enrichment, as well as administering medication and giving additional care to those cats that need nursing. Volunteer Team Leaders support the vital contributions made by volunteers who form a key part of the homing process across the charity's network.
To give Peanut a home, contact Cats Protection's National Cat Adoption Centre on 01825 741330 or by emailing cattery.reception@cats.org.uk
Anyone wishing to find a cat to adopt in their area, of any colour, should visit our adoption section
~ Ends ~
For further information or an interview, please contact Cats Protection's Media Office on 01825 741 911, at media.office@cats.org.uk, or@CPMediaTeam on Twitter.