The Ballymena Cats Protection team were called in when mewling was heard under a car bonnet. Volunteers arrived to discover a black kitten cowering deep inside the engine, frozen with fear. They tried tempting him out with treats, and even resorted to playing 'mother calling kitten' sounds on a loop but to no avail.
As the kitten became more distressed and vocal, the coordinator of the branch, Colin, reached in and managed to get hold of him, before gradually pulling him up to safety.
Colin said: "He was stressed and dirty with engine grime, but after a clean, a cosy heat pad and some paediatric weaning food he was purring away. We took him to the vets the next morning and he got a clean bill of health."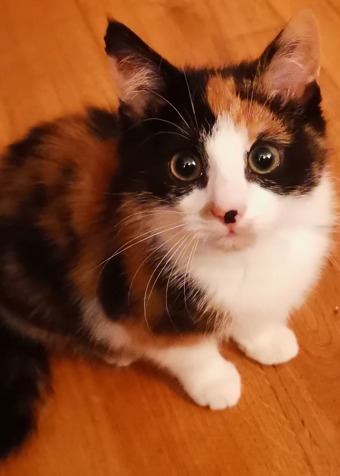 As if one drama was not enough, the branch were also contacted to assist on an industrial site where another poor mite had been become trapped under a raised oil tank where she had been sheltering from poor weather.
Calico kitten Cotton had managed to get herself under the tank but its 4ft-high concrete surround prevented her climbing out again, and as it began to fill with rain she was left sitting in inches of freezing water. 
An employee at the site who had been feeding Cotton and her feral mother found her and called in Cats Protection to help bring her to safety. Having been living rough since birth, she was covered in fleas and ticks, but she was swiftly decamped to a heat pad, taken for veterinary treatment and was soon back to full health. Her mother and sibling could not unfortunately be traced.
Both Pancho and Cotton recovered from their ordeals in the care of volunteer fosterers, and were vaccinated, microchipped, and neutered once they were old enough. Cotton has gone to her new home, where she has been renamed Tipsy, while Pancho is also off to a new family, which has given him the name Kevin.
The Ballymena Branch was set up in September this year, principally to undertake Trap, Neuter, Return (TNR) work in the area, preventing feral colonies and community cats – who can be seen as a nuisance – breeding out of control. 
These types of cats cannot be domesticated but Cats Protection believes that population control is vital, as felines are prolific breeders. One unneutered female cat could potentially produce up to 18 kittens a year, and owners who do not neuter their cats may unwittingly be contributing to more cats being abandoned in the future.
Colin said: "We have been incredibly busy since we started just a few months ago, and have already taken in 130 cats for neutering, preventing more unwanted kittens being born.
"This type of work can be costly because of the continuous visits to the vets whenever new cats are caught in humane traps, and because we have started in the middle of a pandemic we have not been able to do any fundraising activities. We would really welcome donations, however small, from people that appreciate the work we are doing to make cats lives better."
To find out more or to donate to the Ballymena Branch of Cats Protection, visit: https://www.cats.org.uk/ballymena or check out its Facebook page, which is regularly updated with the branch's activities as well as cats available to adopt: https://www.facebook.com/ballymenacats
Ends
For more information please contact Cats Protection's Media Office on media.office@cats.org.uk or by calling 01825 741 911.