A cat who is thought to have hitched a ride under a car bonnet before going missing for three weeks is back at home after Cats Protection used microchip details to trace his owner.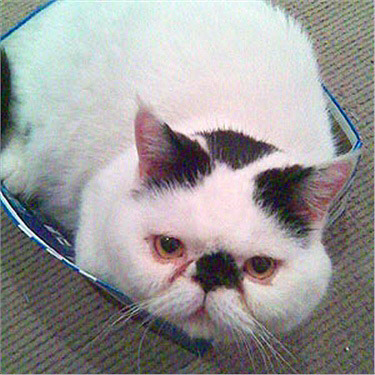 Eleven-year-old Horace went missing from his home in Southsea, Hampshire, in April and was later found 15 miles away in the grounds of Lee-on-the-Solent Infant School.
Tired, hungry and dehydrated, Horace was also covered in an oily substance, leading vets to believe he may have curled up for a snooze under a car bonnet before being driven away.
Relieved owner Colin King said: "Horace is a house cat, but had accidentally got out one evening and despite putting posters up and contacting animal charities, we couldn't find him anywhere.
"Fortunately, he's microchipped, so when staff at the school found him, they phoned Cats Protection's Gosport Town Branch who scanned for his microchip and contacted me. It was fantastic to see him, and he seemed very pleased to get back home after his adventure.
"I took him for a check-up with the vet, who said the oil probably came from a car, so I think he must have climbed under the bonnet somehow to keep warm before he was driven away.
"Whatever happened, he's an old boy who is clearly very happy to get back to his creature comforts. I think his adventuring days are behind him now."
Carole Rudin, Lost and Found Coordinator for Cats Protection's Gosport Town Branch said: "Cats can get themselves into all sorts of scrapes, so it's great that Horace was microchipped as it meant we could get him home quickly.
"Without his microchip, Horace may never have been returned home, so his story is a great reminder about why microchipping is so important."
Angela Clayton, Senior Administration Assistant at Lee-on-the-Solent Infant School said: "We noticed Horace in the school grounds and thought he looked a little worse for wear, so our Site Assistant Steve Taylor looked after him while we called Cats Protection. We were all so delighted that his owner was found, and the children were thrilled to know the little lost cat was back at home."
Ahead of National Microchipping Month in June, Cats Protection has renewed calls for a change in the law to ensure that all owned cats, like dogs, are microchipped.
Microchipping is a safe, permanent and cost-effective method of identification which ensures cats can be reunited with their owner should they go missing. It means lost cats are not mistaken as strays and taken in by rehoming charities.
Microchipping also ensures owners can be notified if their cat has been injured or killed in a road accident. Cats Protection encourages local councils to scan any cats they collect that have died in road accidents for a microchip so their owners can be informed.
Jacqui Cuff, Cats Protection's Head of Advocacy & Government Relations said: "It's always lovely to hear of stories where cats have been reunited with their owners, but most of these happy endings are only possible if a cat has been microchipped.
"Microchipping is an essential part of responsible pet ownership, and is already compulsory for dogs. This should now be extended to ensure all owned cats are microchipped, giving the same level of protection to keep them safe and protected."
Cats Protection is the UK's largest cat charity, helping around 200,000 cats every year through a network of over 250 volunteer-run branches and 36 centres.
To find out more about the charity, please visit www.cats.org.uk
Ends
For photos, interviews or more information, please contact Michaela by emailing michaela@adastramedia.co.uk or phone 07740 305918.