A 'wonky-faced' cat who has been overlooked for nearly 10 months is in desperate need of a home to call his own after suffering an injury to his face.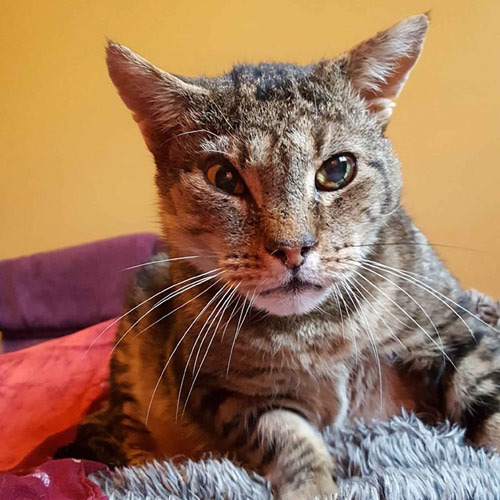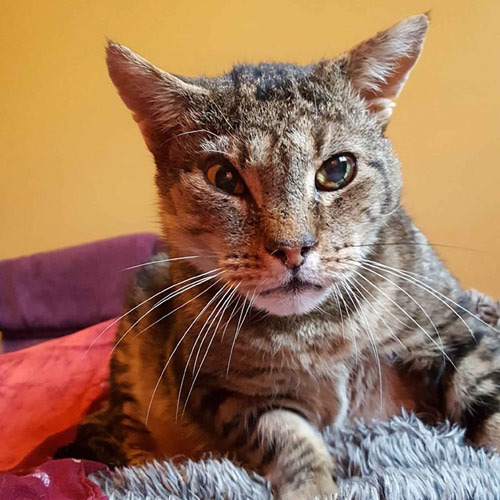 Prior to arriving in the care of Cats Protection's Farnham & Wey Valley Branch, 13-year-old Wiley was in a bit of state and needed some emergency veterinary care to treat an area of skin on his face where the cells were dying.
He also had scars around his neck and mouth but it is unsure how these were caused. Vets who treated Wiley believe he could have got his head stuck somewhere or was caught by something around his neck.

Thanks to dedicated local vets, Wiley received treatment for his injuries and was on the road to recovery. However, because of his ordeal, Wiley has been left with a slightly wonky face and volunteers are worried that his slightly unusual look is putting off would-be adopters.
Since arriving in care last November, over 90 cats have gone to their forever homes but Wiley has had no such luck.
"Despite a few enquiries, Wiley is sadly still looking for his forever home," said Nikkie Mann, Wiley's fosterer.
"It took a while for Wiley to fully recover, and he can still be slightly anxious, but he has come on leaps and bounds since arriving in our care. He has a slightly wonky face but what he lacks on the outside, he definitely makes up for on the inside. He is such a lovely cat who desperately needs an understanding owner who will give him the time he needs to settle in.
Because of his injury, it is thought that Wiley has not regained full sight.
She added: "After living as a street cat, we really hope the right person for Wiley contacts us soon as he's desperate to show his true loving colours. Please don't let his wonky face put you off from meeting him."
Wiley needs a quiet home where he can be the only pet needing love and attention and would benefit from some safe outdoor space to explore once he has settled in.
Anyone wishing to make an appointment to meet Wiley should contact the branch by calling 01252 334 644 or by completing a contact form on their webpage: www.cats.org.uk/farnham/adopt-a-cat
~ Ends ~
For media enquiries please contact the media office on 01825 741 911 or email media.office@cats.org.uk