You'll get close to some very special cats as a Cats Protection Sponsor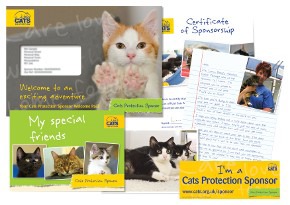 You'll get to know so many cats! You'll hear their stories. See their pictures. You'll feel like these special cats are a part of your life.
To start off your journey as a Cats Protection Sponsor, you'll receive a fantastic sponsorship pack including a personalised certificate, your very first photo introducing you to the lovely cat you're currently helping to care for in your pen, a photo album to collect all your photos along the way and a window sticker!
And that's not all. Throughout your time as a Cats Protection Sponsor we will keep you posted with regular newsletters and new photos of the cat in your pen and will update you by email with stories, videos and photos on all the sponsorship news. You can even access your sponsor area on our website where you can see more information about the cats you're helping, including videos and wonderful photos of your current sponsor cat.