Cats Protection is leading the way in helping create a better future for cats in the UK. From working with the government on important issues like banning kitten sales in pet shops, to promoting pet-friendly tenancies – we speak up for cats and the people who love them.
But there is more to be done. Despite being one of the nation's favourite pets, too many cats continue to be victims of cruelty, neglect or poor welfare.
We are calling politicians at Westminster to improve cat welfare through:
---
---
How can MPs help?
If you are a Member of Parliament and want to support our cat welfare action plan for Westminster, please contact our Advocacy & Government Relations team at advocacy@cats.org.uk
---
Help us speak up for cats
You can get involved by supporting our campaigns to give our feline friends the protection they deserve. 
For example, charity worker Gemma Barbieri was reunited with her cat, Rose, who had been missing for 13 years – thanks to Cats Protection's Downham Market Adoption Centre scanning her microchip. But over 2.5 million owned cats in England are still not microchipped.
Black cat Poppy was the victim of a vicious air gun attack which left her with injuries so severe that vets at first believed she had been hit by a car. Modern, sensible and safe laws on air gun ownership would prevent these lethal weapons from falling into the wrong hands, protecting people and vulnerable animals, including cats.
Can you share your story?
We need your help.
Case studies show the importance of these injustices, so if you have been affected by any of our campaigning issues recently (last six months) please get in touch. Send them to campaigns@cats.org.uk
The Time is Meow: a cat welfare action plan for Westminster outlines our top campaigning issues to improve cat welfare.
Find out more on each of our key priorities.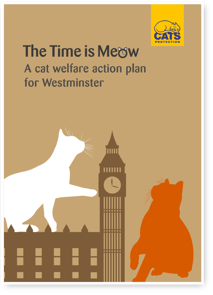 Download the full guide