Overheard at the National Cat Awards 2018... the highlights of the day!
With glitter liberally sprinkled on tables, and cat masks at the ready for purrfect photo opportunities, the glamorous 2018 National Cat Awards got underway at The Savoy hotel in London on Thursday 2 August.
It was a truly heart-warming event for all of the fabulous feline fans in attendance, as well as for those watching at home with their moggies via our Facebook Live stream.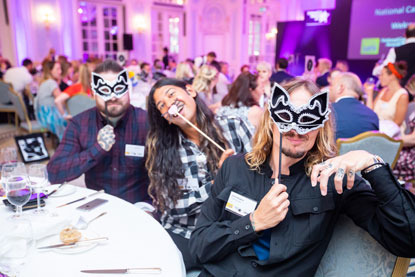 Feline fun at the National Cat Awards. Credit: Cats Protection
There was a great deal of media buzz with several celebrity cat lovers there to present the awards, but it was the finalists themselves who were the true stars of the show.
You can discover their stories on the National Cat Awards section of our website but here are a few of the pawsome highlights from the day…
"It's a lovely event. In my diary, it is my absolute favourite." – Alan Dedicoat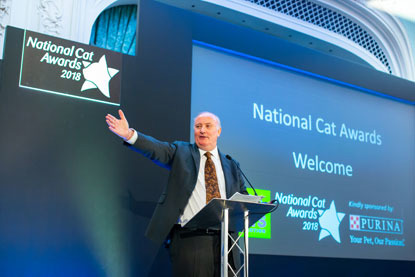 Master of Ceremonies, Alan Dedicoat. Credit: Cats Protection
Our Master of Ceremonies Alan Dedicoat was back to oversee proceedings, delighting everyone with his instantly recognisable voice as the official Strictly Come Dancing announcer. In fact, the event was something of a Strictly reunion….
"Your voice is giving me some serious flashbacks, Alan." – Chizzy Akudolu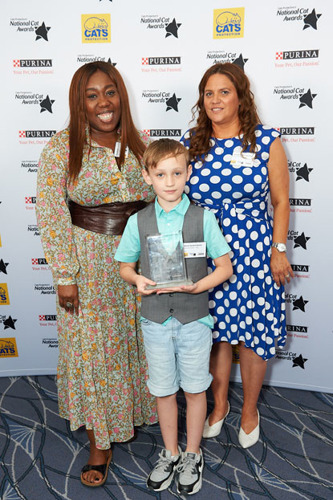 Winner of Hero Cat Award (Toby) Annette Sterland-Burton, her son Kieran and Chizzy Akudolu. Credit: Cats Protection
Actress and former Strictly contestant Chizzy presented the Hero Cat award and told the audience all about how her cat Bootsy had stayed with her the night she left the BBC dancing competition. She said: "That's the beauty of cats, they know when you're upset and they know when you need them."
"It's a triumph of microchip over absence and I think that's something we can all get behind." – Justin Hawkins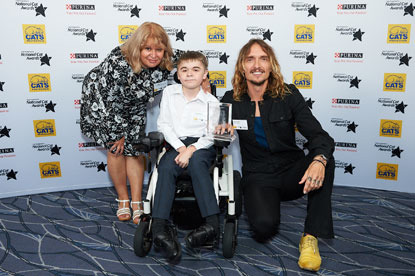 Winner of the Furr-ever Friends Award (Salem) Jared Bignold and his mother Verity with and Justin Hawkins. Credit: Cats Protection
Musician and first-time judge Justin presented the Furr-ever Friends award and told the story of how Cats Protection helped reunite him with his cat Cully who went missing for three years, all thanks to her microchip! He also added that he didn't know what to expect from the ceremony, joking that he worried it might just be 'a handful of people with hair on their clothes and a slight smell of urine'!
"I do feel like a slight fraud being here because I don't have a cat myself." – Gavin Ramjaun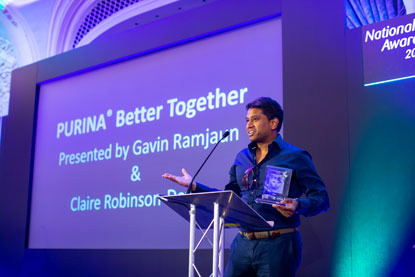 Gavin Ramjaun presenting the Purina Better Together Award. Credit: Cats Protection
News presenter Gavin sparked a gasp in the room with this confession while presenting the Purina Better Together award, but Alan jumped to his aid by saying "To be fair, he didn't say he had a dog!" Gavin then went on to champion Cats Protection's Paws Protect service, which provides temporary foster care for cats whose owners are fleeing domestic abuse.
"I knew if there was one group of people I could stand in front of and say 'Everything is cancelled, my cat is ill', it would be Cats Protection and you." – Deborah Meaden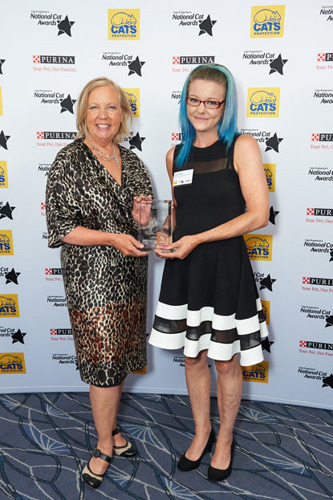 Winner of Most Caring Cat Award (Arthur) Emily Hatton with Deborah Meaden. Credit: Cats Protection
While presenting the Most Caring Cat award, businesswoman and Dragon's Den investor Deborah - who is another former Strictly star - explained that she was unable to attend last year's awards because her cat Friday was ill. Sadly, Friday passed away not long after but when she took in two new cats, Blade and Storm, she admitted: "If you're feeling sad, there's nothing like kitten therapy!"
"It was one of the most marvellous days of my life when I went to see all the cats." – Bob Mortimer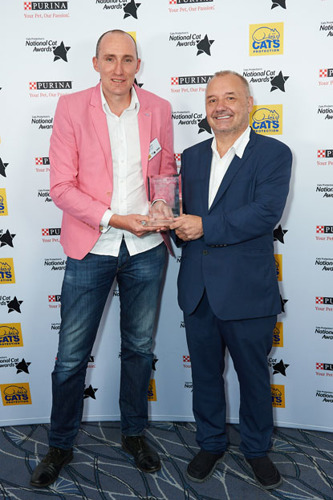 Winner of Outstanding Rescue Cat Award (Lucky) Travis Tremayne with Bob Mortimer. Credit: Cats Protection
Comedian Bob was there to present the Outstanding Rescue Cat award and reflected on his recent visit to Cats Protection's National Cat Adoption Centre in Sussex. He even urged the audience to go and spend a day at their local Cats Protection centre because it's an 'incredible experience'. Bob also added that his own cats, Goodmonson and Mavis, had insisted he attend the awards on their behalf.
"Isn't it nice to be in a safe place? If somebody gets out their phone to show you what's on it, it's not going to be their kids!" – Andrew Collins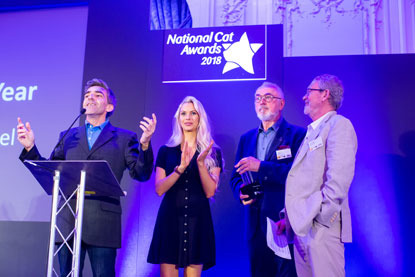 National Cat of the Year judges Andrew Collins, Jessica-Jane Stafford, Peter Egan and Paul Copley. Credit: Cats Protection
Author and broadcaster Andrew Collins was thrilled to be attending his third National Cat Awards and joined actors Paul Copley, Peter Egan and Jessica-Jane Stafford on stage to announce the winner of National Cat of the Year. He also declared his love for monochrome moggies, saying: "Once you love a black cat, you love a black cat forever" and encouraged the crowd to get #BlackCatsMatter trending on Twitter.
"Our relationship with animals confirms the most vital part of our lives, that defines us as human beings: compassion. And that's the thing that's going to save this world, I think." – Peter Egan
Downton Abbey star Peter Egan had these beautiful words to say as he joined his fellow National Cat of the Year judges on stage, prompting rousing applause from everyone in the grand ballroom. Then it was the moment everyone had been waiting for…the winner of National Cat of The Year!
"I'm devastated that he's gone but I'm so proud of him for winning. It shows I'm not the only one who thinks he was a really special cat." – Charlotte
There wasn't a dry eye in the room when Theo was announced as the overall winner of the awards. This plucky puss had survived cat flu thanks to his caring owner Charlotte and a few years later returned the favour by potentially saving her life when she developed a blood clot. Tragically, Theo died just a week before the awards, after the winners had been decided, but according to his owner Charlotte this has made his win all the more poignant.
Find out more about the 2018 National Cat Awards at www.cats.org.uk/nca and don't forget to search for #NationalCatAwards on Facebook, Twitter and Instagram to see all those purrfect pics!