Hero cat rescues his day-old kitten from fox attack
A tiny black kitten survived by a whisker after a cat, who is thought to be his father, faced off with a fox to keep him safe.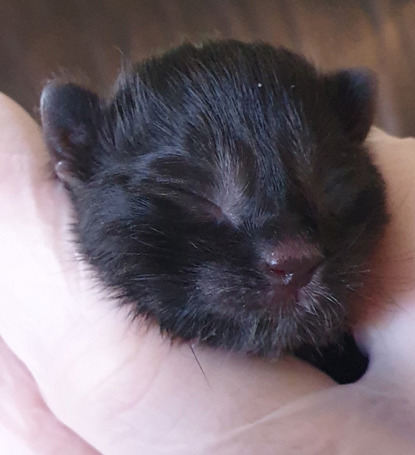 The tiny kitten was rescued just in time 
The kitten is being cared for by Cats Protection's Gwent Branch after brave moggy Ozzy alerted owner Sarah Williams to the attack in the early hours of the morning.
Sarah, who lives in Fleur-de-lis in Wales, was awoken by the feline growling and meowing out in the garden and when she went out with a torch to investigate she was shocked to see Ozzy staring down a fully grown fox.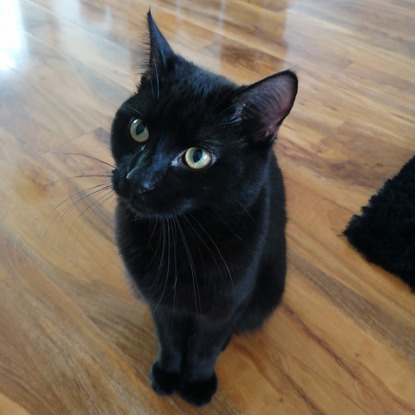 Ozzy the hero dad
Startled by her arrival, the fox darted off and she then heard a strange meowing coming from the bush where Ozzy had been standing.
A quick search revealed the kitten, who Sarah rushed inside and wrapped in blankets before contacting Cats Protection.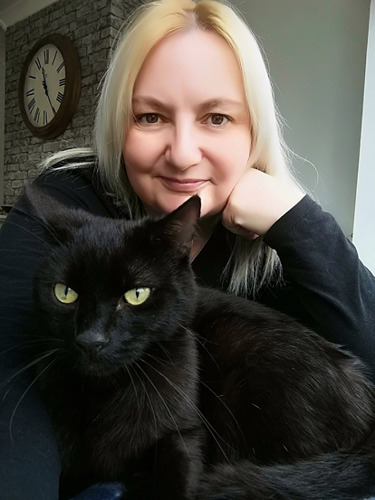 Sarah Williams with Ozzy
"Gwent Cats Protection were so good – I can't thank them enough," said Sarah. "They do incredible work and came out almost straight away to help. They arrived before 6am!"
Round-the-clock care for the tiny kitten
Now named Tommy, the kitten is being hand-reared by volunteer branch coordinator and fosterer Glynis Davies until he is ready for homing.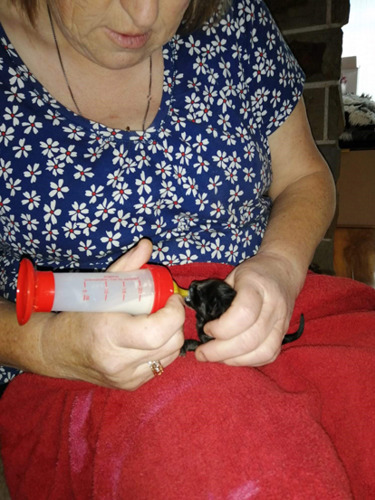 Glynis bottle-feeding Tommy the kitten
Glynis said: "He's a sweet little thing and is doing well after his ordeal. Hopefully he'll continue to flourish and we can find him a home once he's old enough."
Sarah added: "I think Ozzy probably fathered the kitten prior to being neutered nine weeks ago as I often see him hanging around with one of the neighbourhood's female cats. They are both jet black, just like Tommy, and I can't think why else he would be so protective of this kitten."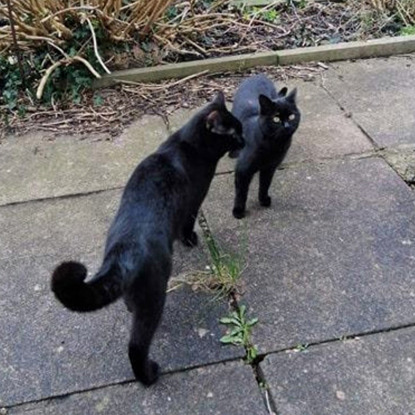 Ozzy and his 'girlfriend' 
Daniel Cummings, Cats Protection's Behaviour Manager, said: "Cats and foxes generally prefer to avoid conflict to reduce their risk of injury, more often 'staring' at each other before going their separate ways. While cats can show what is perceived as defensive behaviour when humans or other animals approach their litter, it would usually be the female that displays these behaviours as it is typically the queen that looks after the kittens with little input from the father.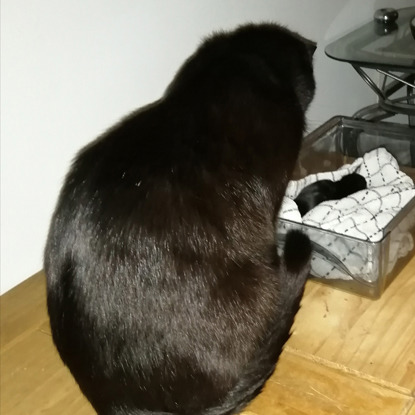 Ozzy watching over Tommy the kitten
"While instances of foxes attacking cats are relatively rare, foxes are scavengers so it is possible they may eat a kitten if the opportunity arises. The best way to avoid this is to ensure that cats are neutered as early as possible to avoid accidental litters being born outside. Cats can be neutered at four months, which is when they can start breeding."
To find out more about getting your cat neutered, visit our cat neutering page.