Get the inside scoop from the National Cat Awards 2017!
A suitably glamourous setting, plenty of cat-lovers and a star-studded judging panel – Cats Protection's National Cat Awards 2017 yesterday celebrated the all-important bond between cats and their owners.
To give you a peek at what went on behind the scenes, here are 8 things that happened at this year's National Cat Awards: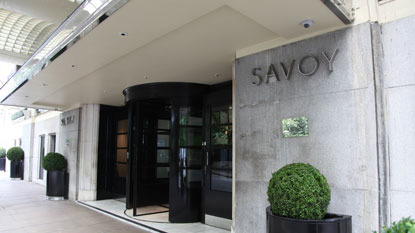 Outside The Savoy, where the ceremony is held
1. There were the usual tales of heroism and bravery we've come to expect from the awards. These included the story of Spike, who helps his owner cope with a debilitating disease, and Tilly, who has a positive impact on her owner's health and wellbeing.
2. The friendship between children and their cats featured highly this year. Mittens, the winner of Furr-ever friends, was noted for helping a young girl with autism cope with a serious medical condition. Overall Cat of the Year winner, Genie, was chosen for helping 12-year-old owner Evie battle bone cancer.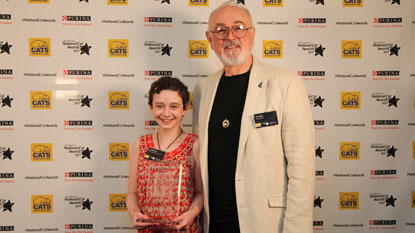 Evie, with Celebrity Judge Peter Egan
3. Cats Protection celebrated their 90th anniversary. To mark the occasion, Chief Executive Peter Hepburn talked about the impact our volunteers and staff have had in the last nine decades.
4. Guests used selfie props, including cat ears and whiskers, to glam up in the National Cat Awards photobooth!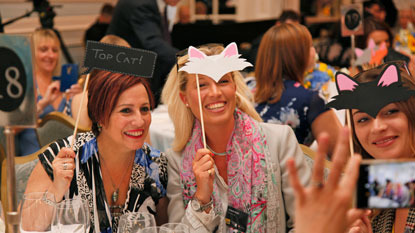 Guests get stuck in with selfie props
5. John Challis was the first person to be booed at a National Cat Awards ceremony on announcing that he "wasn't really a cat person." Thankfully, this turned to cheers when he revealed he had become the owner of three cats!
6. The event was streamed live on Facebook throughout the day, with celebrity roving reporting Lucy Pinder interviewing judges, guests, finalists, volunteers and staff. Check these out on our Facebook page.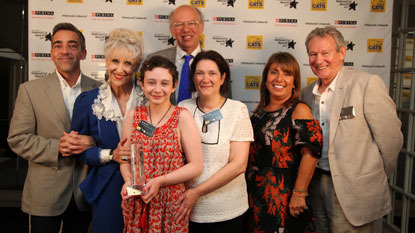 Winner Evie, with her mum, Peter Hepburn and judges Andrew Collins, Anita Dobson, Jo Hemmings and Paul Copley
7. Broadcaster Andrew Collins summed up the plight of the judges in choosing a winner, remarking on the irony that cats are known to reduce anxiety, but when it came to judging who should win, it increased the judges' anxiety levels!
8. When asked what Cat of the Year Genie would be rewarded with on her return home, 12-year-old Evie had the perfect response. "Chicken!" she said – the perfect prize for any winning cat.
For more information on this year's National Cat Awards, head here.