Discover special memorial ideas to honour the memory of your beloved cat this Pet Remembrance Day
Losing a cherished cat is always difficult, as they are our trusted companions and members of the family who we see every day.
Even though they are no longer with you, it's natural to want to remember them and the good times you shared together. Memorialising your cat can be a helpful way to process your grief and ensure their memory lives on forever.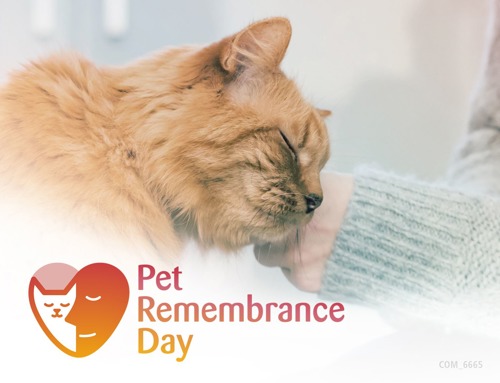 To mark Pet Remembrance Day (5 July), here are some heartfelt ways you can remember your cat after they have died.
1. Create a memory box or photobook
Gather together some of the things that remind you of your beloved cat, such as their favourite blanket or toy, their collar and a selection of photographs and put them in a memory box that you can look through any time you're missing them. You could also put some special photos of your cat in an album or get them printed in a photobook to cherish forever.
2. Plant some flowers
Plant forget-me-nots, a tree, or another plant that's special to you in your garden, perhaps in your cat's favourite outdoor snoozing spot, or where you have buried them or scattered their ashes. You may also want to add a plaque or cat statue to honour them, so every time you look at it you can be reminded of your feline friend.
3. Light a candle
Pausing to light a candle in your cat's memory can be a helpful way to reflect on their life. You could light it every year on their birthday or the anniversary of their death, or simply any time you want to stop and remember them.
4. Post on our Memory Wall
You can upload a photo of your cat and share your memories of them on our online Memory Wall as a special tribute. While you're there you can also read the lovely messages left by other bereaved cat owners, a comforting reminder that you're not alone in your grief. We also have a special memorial page in our supporter magazine The Cat, which you can submit a short tribute to by emailing editorial@cats.org.uk
5. Donate to Cats Protection
Making a donation, no matter how big or small, to Cats Protection in memory of your cat is a great way to make sure their legacy lives on. This simple act of kindness will help us to continue caring for thousands of cats each year, making sure they receive the love and new homes they deserve.
6. Commission some personalised artwork
If you're artistically talented you could have a go at creating a likeness of your cat, or you may prefer to commission someone to create a bespoke portrait from photos you send them. You can then display your one-of-a-kind piece of artwork with pride to remember your moggy.
7. Name a star after them
Naming a star after your cat with an official star registry means they will shine on forever and it will help you to remember them every time you look up at the twinkling night sky.
8. Turn their ashes into jewellery
If you've had your cat cremated, you may want to get their ashes made into some bespoke jewellery so you can keep them with you wherever you go. Alternatively you could put their photo in a locket, or get some jewellery engraved with their name as a lovely keepsake.
Grief support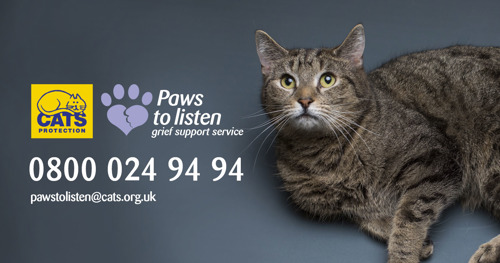 If you're grieving the loss of your cat and would like someone to talk to about your feelings, you can contact our Paws to Listen grief support service. Our dedicated volunteer listeners can offer a sympathetic ear and lots of support and practical information to help you cope with your loss. To find out how to get in touch via phone or email, visit www.cats.org.uk/grief