Terrified cat Bonnie chooses her new owner.
This guest post has been written by cat owner Julia MacMillan
This is my eight-year-old tortie Bonnie who I brought home from a cat charity in Leith, Edinburgh in August 2011. She had been with them for around six months and was so terrified of people it put off potential adopters and she wouldn't let the staff fuss her.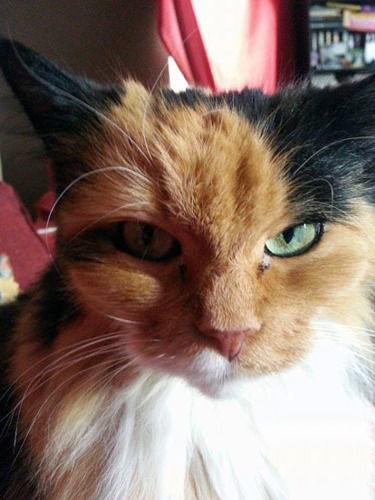 I wanted to rehome an indoor cat after losing my previous cat to skin cancer. I had it in my mind I was looking for an indoor, male cat that was around two or three years old, which I explained to Sarah, the girl on duty, who led me around the pens.
As we got to the third pen Sarah said: "And this gorgeous girl here is Bonnie."
I looked into the pen and there on the ledge next to the mesh was the most beautiful longhaired cat I had ever seen with huge big green eyes looking at me. I looked at her and as she looked right back at me I said: "Hello beautiful, what gorgeous eyes!" and she appeared to wink slowly!
Sarah explained how Bonnie had come into the shelter as an eight-year-old stray that had been on the streets (but on closer inspection they felt she had definitely been an indoor cat and well looked after previously) around six months previously. She was terrified of everything and anything. She would not let anybody near her and didn't like being near the other cats. "Well maybe I should see if she will talk to me then" I said, and we went into the pen where Bonnie sat watching us.
As we were talking, Sarah had to leave to attend to a new visitor so I started talking to Bonnie while putting my hand out to her to sniff. Bonnie immediately rubbed her head on my hand and started purring! I was amazed: she didn't seem terrified in the least! I sat down for a minute rather taken by this turn of events and wondered if maybe Bonnie was to come home with me after all.
"What do you think then Bonnie? You want to come home with me then?" I asked her and stood up to stroke her.
Bonnie immediately upped her game and purred louder, miaowed at me and that was it: I was sold! Sarah came back in to find Bonnie being stroked by me and quite happily purring. She was amazed.
"In all this time Bonnie has NEVER let me stroke her. Ever!" said Sarah.
Bonnie had clearly chosen me. That was it, I couldn't leave her there! Sarah was amazed and so happy to see Bonnie taking to somebody at last!
I have to say that although Bonnie is still a bit scaredy cat at times she has come on in leaps and bounds. Whereas at one point she wouldn't let me pick her up or cuddle her, she now snuggles in at bedtime. She also used to be terrified of the wee street sweeping machine when it came past but now she barely notices it.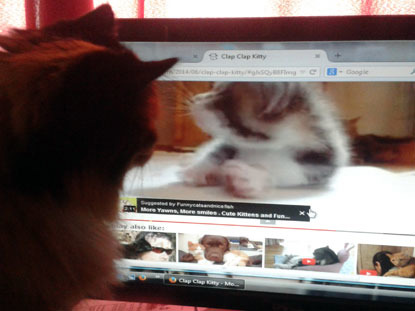 Bonnie watching cat videos!
Although she still doesn't like being picked up very much she does let me groom her and she sits on my lap more too.
Bonnie likes to do a lap of honour around the flat sometimes – sliding across the floor and crashing into stuff – mainly when she is very happy, especially after I've fed her in the morning. She also loves watching the sheepdog trials on BBC Alba, the dogs and cats on You've Been Framed and nature programmes including anything with penguins in.
She's very healthy and happy. I call her 'HRH Lady Bonnie' because I and many other people are always saying how dainty and ladylike she looks in pictures!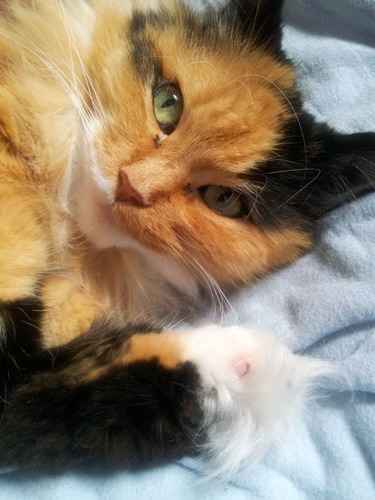 Having HRH in my life (five years this coming August – she will be 13) has made grieving for my previous cat more bearable and other personal stuff I have had to deal with since. I used to suffer from chronic clinical depression but having HRH has kept it at bay. I certainly recommend being adopted by a cat, especially a rescue cat and an older one at that. I am so glad she chose me!
This post has been written by a guest blogger. The views expressed in this post do not necessarily reflect the views of Cats Protection.