Life as a cat volunteer: Bottle-feeding newborn kittens.
At Cats Protection we care for cats of all ages and from all backgrounds, with some needing a bit more care than others.
Sometimes we have kittens in our care who, for whatever reason, do not have a mum to look after them. These litters need to be hand-reared by our dedicated volunteers and staff to ensure they grow big and strong, and it's a very demanding job.
The kittens need to be fed every few hours throughout the day and night, and lots of care needs to be taken to make sure they are kept safe and healthy.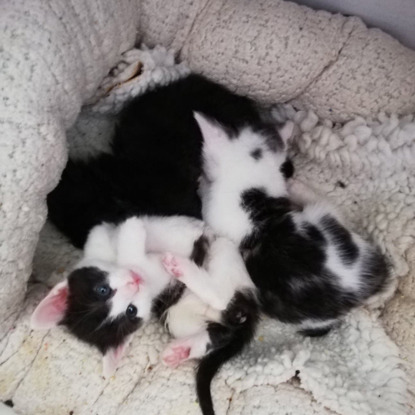 Kittens Arizona, Texas and Nevada getting cosy
Maisie Buckley, a volunteer at our National Cat Adoption Centre, recently helped to look after one of these litters of orphaned kittens and explains how she handled their round-the-clock care…
Why did you decide to become a Cats Protection volunteer? 
I can't have pets in my current apartment so volunteering is a great way to look after my favourite animal! As I was only looking after the kittens temporarily and they were kept in a pen, my landlord gave me permission to care for them. It's so rewarding to know I'm able to help these cats and kittens have a better life, especially when you can see them changing and growing more confident right in front of your eyes!
Can you tell us about the litter you recently hand-reared? 
I was looking after three, three-week-old kittens, one brother and two sisters named Arizona, Texas and Nevada. Unfortunately, their mother was a feral cat who was unwell and had to be put to sleep, leaving them needing round-the-clock care.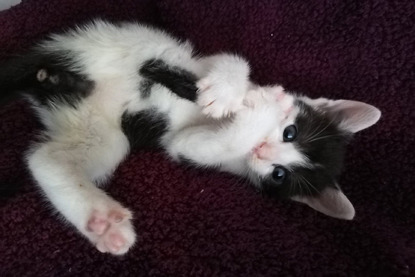 Nevada having a chew on her paw
How did you prepare for hand-rearing the kittens?
I was provided with all the personal protective equipment (PPE) I needed by the centre, like gloves and aprons. As the kittens were not vaccinated yet, wearing these items helped to ensure I didn't pass anything on to them that could make them ill. Then all I had to do was make sure I had a spot ready for their pen and space which they could be fed and socialised in.
What other help and advice did you get from the Cats Protection centre? 
The staff at the centre were really helpful and reassuring, giving me plenty of advice and tips! Before taking the kittens home I did some training with them on how to feed and toilet the kittens so I was confident that I could look after them well.
What was a typical day (and night) with the kittens like? 
Although a few hours between feeds sounds like a long time, it's pretty much non-stop when there are three or more kittens! For each feed, I had to carefully sterilise all the equipment, mix the milk and measure it into bottles for them and prepare the litter tray for toileting. Then I would toilet each kitten and bottle feed them. Sometimes it can take some time to get them to latch on, some kittens require some encouragement and patience is needed to give them time to drink what they need. Then we check if they need to go to the toilet again before they will go back in their pen. I would also provide them with some finely mashed up kitten food to try and wean them onto solid food.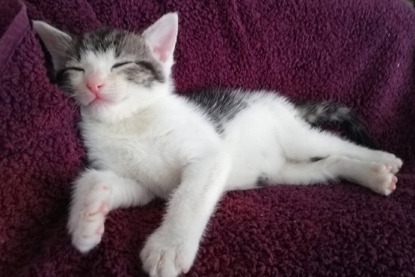 Arizona enjoying his nap
After everyone has been fed and toileted I then had to carefully document the details of each kitten's eating and toileting habits so that we can keep track of their progress and make sure there aren't any problems. Between all the sterilising and getting them all fed and toileted it took up to an hour each time. Be warned it can also get quite messy so there's some clean up time to be factored in too!
Between feeds they often wanted to play so I found it helped to get them out for some supervised playtime and socialising. It's important to introduce kittens to new experiences they'll encounter in later life, such as household noises and being handled by people, during their 'socialisation period' which is between the ages of two to eight weeks. We follow a structured socialisation programme to help us do this which you can find out more about at https://www.cats.org.uk/help-and-advice/pregnancy-and-kitten-care/kitten-socialisation
When the kittens are out of the pen it's important to make sure you're wearing PPE and keep them on clean towels and blankets so they don't come into contact with any unsterile surfaces. As you can imagine there are some escape attempts so you need to keep a very close eye for little feet scampering away! The most difficult part was trying to convince them it was bed time after the night-time feeds as they were wide awake and wanted to come out and play!
What was the most challenging part of hand-rearing?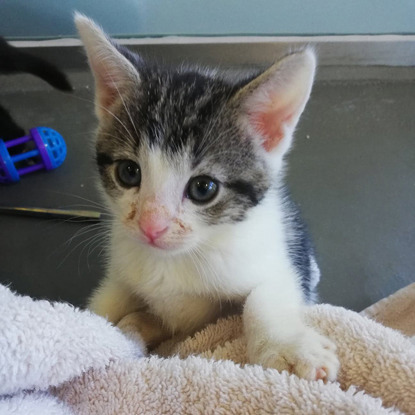 Arizona ready for playtime
Luckily my three were all happy and healthy but they're totally reliant on you, so it's a big responsibility to make sure they're all eating and toileting correctly. It can be very worrying if one of them doesn't want to eat or is unwell. You don't get a lot of sleep either which starts to catch up with you after a few days, but it's more than worth it in my opinion!
What did you enjoy most about caring for the kittens? 
It was a really lovely experience bottle-feeding them, they're so cute and it's so rewarding to know they are happy and healthy because of us. Socialising is also very fun as you get to see some of their personality come out at playtime.
How did you feel when it was time for them to be rehomed? 
It was very hard to say goodbye because you do form a bond, but I'm so happy to know they're going to good homes and they will have wonderful lives.
What advice would you give to someone who wants to become a Cats Protection volunteer? 
I would say, go for it, you can really make a difference to the lives of these cats! I'm so glad I decided to join up, the time I spend with the kittens always makes my day and I wouldn't give it up for the world.
If you think you would be up for the challenge of caring for orphaned kittens, find out how you can join our team of incredible volunteers at https://www.cats.org.uk/support-us/get-involved-volunteering