Cat fosterers provide temporary homes for the animals in our care – find out why one of our fosterers volunteers for Cats Protection.
Louise McCormick is a volunteer Fosterer with our North London Adoption Centre
I've always considered myself a cat lover. I don't remember not having a cat around as I was growing up, so it seemed completely natural to start visiting my local Cats Protection adoption centre in Archway as a 'cat socialiser', which involves popping in to play with the cats that are awaiting new homes. After hearing rave reviews of fostering from friends, the socialising soon led to the desire to foster cats and to play a more active role in rehoming.
So on 13 January 2011, I went to pick up my first foster cat, an eight-month-old beauty called Ruby and never looked back.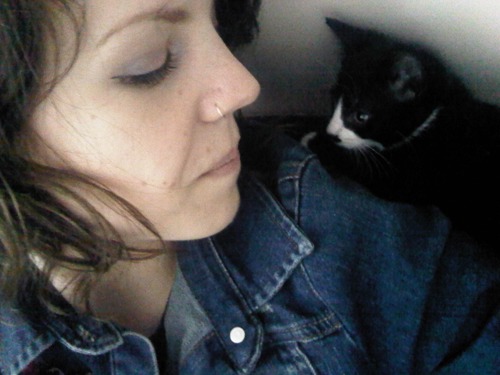 Louise and Nando
In the past eight months, I have fostered a total of seven cats, which have come to us in various states, needing various levels of care. The most extreme illness I've dealt with is hyperthyroidism, which is a problem that affects older cats. If left untreated, it can be fatal and the symptoms are very poor health and a haggard appearance.
Fortunately, the adoption centre works with some excellent local vets and, with the right treatment, cats can be cured. One of the most memorable cats I fostered was Blackie, a 12-year-old scruffy little thing who, along with her brother Ginger, stayed with us for three months. Blackie was on daily medication to reduce her production of thyroid hormones, until her levels were low enough for an operation to remove her thyroid gland. After the operation, she was quickly on the mend, ready to find a new family in an exciting new home.
Cat fostering is extremely rewarding – I feel as though I'm playing an active role in improving cats' lives, before they are sent off to new loving families. Whether a cat is with me for a few days or a few months, they get the same level of attention and I take great pride in seeing a new cat settle into my flat and make him or herself at home for the duration of their stay.
A question I find myself regularly met with, is "do you get upset when you have to give them back?" Surprisingly, the answer is no, because I know they'll be joining a new loving family soon enough, who can offer them the happy life that they deserve. Admittedly, I bawled my eyes out when I handed Ruby back, but it became a lot easier as time went on, and I was even inspired to keep a blog for all of the cats that have been a guest at my flat!
I would recommend fostering to anyone who loves cats and wants to help out with the rehoming process. If you're prepared to make vets visits, sacrifice that extra weekend away and feel happy in the knowledge you've made a difference to a cat's life, speak to your local Cats Protection and see how you can help.