Simon's Cat Care with Nicky – what to consider before getting a kitten.
To accompany the Simon's Cat Logic YouTube series, where creator Simon Tofield and Cats Protection's Behaviour Manager Nicky Trevorrow team up to talk about cat behaviour, we're happy to launch a new Simon's Cat series called 'Simon's Cat Care with Nicky', which focuses on welfare issues and gives practical tips on how best to care for cats.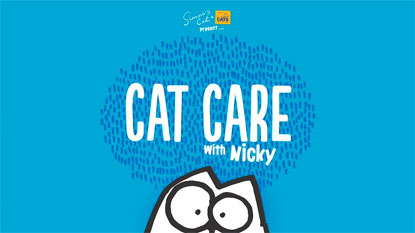 The first video is called 'Adopting Kittens' and Nicky explains some of the things to consider before getting a kitten.
"If you're thinking of adopting a kitten, an animal shelter should be your first port of call," she says. "They have lots of kittens and cats all looking for loving homes."
"By adopting a kitten from an animal shelter, you can help alleviate the pressure on animal shelters and also give a kitten a second chance of a good life."
Kittens require a lot of attention and play. Find out just what is involved in looking after a kitten by watching the video:
Get involved in the conversation online by sharing your kitten and adoption stories using hashtag #SimonsCatCare
You can learn more about kitten care by reading our post on how to look after a kitten.