National Black Cat Day is nearly here – find out why we celebrate black cats and how you can get involved.
Cats Protection's annual celebration of black and black-and-white cats is back on Tuesday 27 October 2015 to encourage the adoption of monochrome moggies.

Black cats in CP care are often overlooked by potential adopters and take on average a week longer to find a new home than their more colourful counterparts.

Our recent research shows that the myth that black cats are unlucky seems to be taking hold with the younger generation who perhaps are being influenced by American attitudes. A notable 12 per cent of those surveyed aged 18 to 24 stated that they think black cats are unlucky, while only two per cent of those aged over 55 agreed with this view.

Gemma Smith, Social Media Manager at Cats Protection says: "Black and black-and-white cats are just as deserving of a loving home as any other colour so we'd urge people to give them a chance and not just walk past their pen in an adoption centre. They're just as funny, sweet and wonderful as any other cat."

To celebrate we ran a Black Cat Champion competition on our national social media accounts which invited our supporters to share their black cat photos and stories. The competition is now closed but the winner will be announced tomorrow on Black Cat Day!

Here's how you can support our campaign: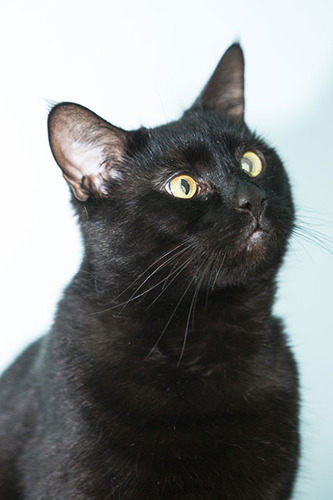 Photo by More Than Paws
Pictured above is Bobby, the beautiful Black Cat Day Champion of 2014, who sadly passed away due to suspected poisoning earlier this year. Bobby won the hearts of our supporters, with his competition entry receiving nearly 1,000 Facebook likes.