Gorgeous gifts for National Black Cat Day and an interview with designer Rus Hudda!
With National Black Cat Day on the horizon, we've had some merchandise designed to mark the occasion. Our Funky Felines mug, list pad and pen feature a quirky cat design by Cats Protection designer and published author Rus Hudda.
We caught up with Rus to find out what goes into creating a new design.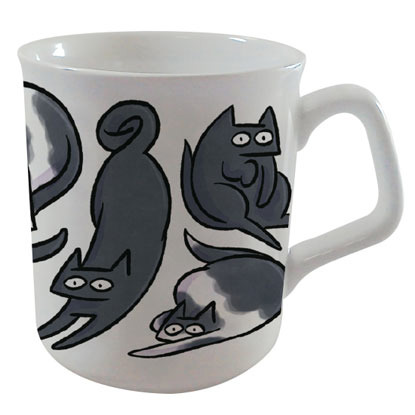 National Black Cat Day mug
So Rus, where do you get your inspiration?
I grew up around cats, so they are a big part of my life and I get a lot of inspiration from watching and playing with them. My own cat, Tali, is a daily reminder of why they are such fascinating subjects. Whether destroying toys or taking over my bed she's always doing something that makes me want to pick up my pen.
The way other artists create their work great source of inspiration too. The advent of video sharing sites means I can also brush up on techniques online – there is always something new to learn.
How do you go about creating your design?
I start by scribbling my ideas in a sketchbook in a very rough form. These can be literal doodles sometimes. Then I move to an iPad Pro to give me a bit more flexibility. I usually sketch a rough layer first, which might include individual cats as well as shapes to show where other cats could go. I plan the layout and build up detail from there.
Technology is a big help at this stage as it means I can try things out and make mistakes. It also means I can develop my design easily, scaling and adjusting different elements to get what I need.
Once I am happy with the design I print it out. I then draw over the top with a Rotring Tikky Graphic pen and add colour either with watercolour directly onto the paper or by scanning the hand-drawn design back into my computer and adding colour digitally. You can see some of these stages in the gif below.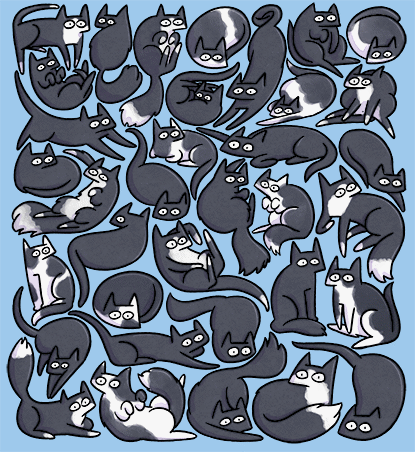 See illustrator Rus Hudda's work come to life!
When the artwork is finished, the design is sent to our supplier who makes it up into a mock-up. This is an exciting step as it is the first time we see how the design will look on the finished products. We might make further changes at this stage to get everything how we want it. Once we are happy, we send our approval and production gets underway.
Which is your favourite product in the range?
The mug is my favourite. It's fun to see my flat design turned into a three-dimensional product.
Tea, coffee or something else while you work?
Water please in my brand new Funky Felines mug!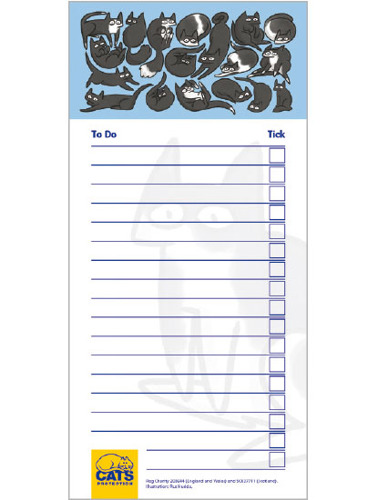 National Black Cat Day list pad
You can find our exclusive National Black Cat Day range in our online shop at www.catsprotectionshop.co.uk
National Black Cat Day celebrates monochrome moggies on 27 October – join the conversation with the hashtag #BlackCatDay