Saluting beautiful black cat superheroes this National Black Cat Day!
Today is a day for celebrating unseen heroes. Those faithful friends who make our lives that little bit better, but too often go unrecognised.
We're talking, of course, about black cats.
Loyal, loving and truly heroic, these supercats take a tragic 13% longer to rehome than their colourful counterparts. That's why every year on 27 November, we put black cats in the spotlight and remind the world why these dark-furred defenders deserve a loving home.
What is National Black Cat Day?
Perhaps potential cat owners are swayed by outdated and untrue superstitions. Or maybe they simply notice colourful cats sooner when visiting a shelter. Either way, black cats often spend a long time waiting for their perfect human sidekicks.
We believe in better for our black cat heroes. That's why we're here to debunk myths and raise awareness about these elegant, affectionate creatures.
What makes black cats heroic?
While legends about black cats being unlucky are categorically untrue, we can confirm that these creatures are pretty super-powered. From their powerful feline physiques to their unique place in myths and legends, these creatures are worthy of recognition.
Here are just a few reasons why all black cats are heroes.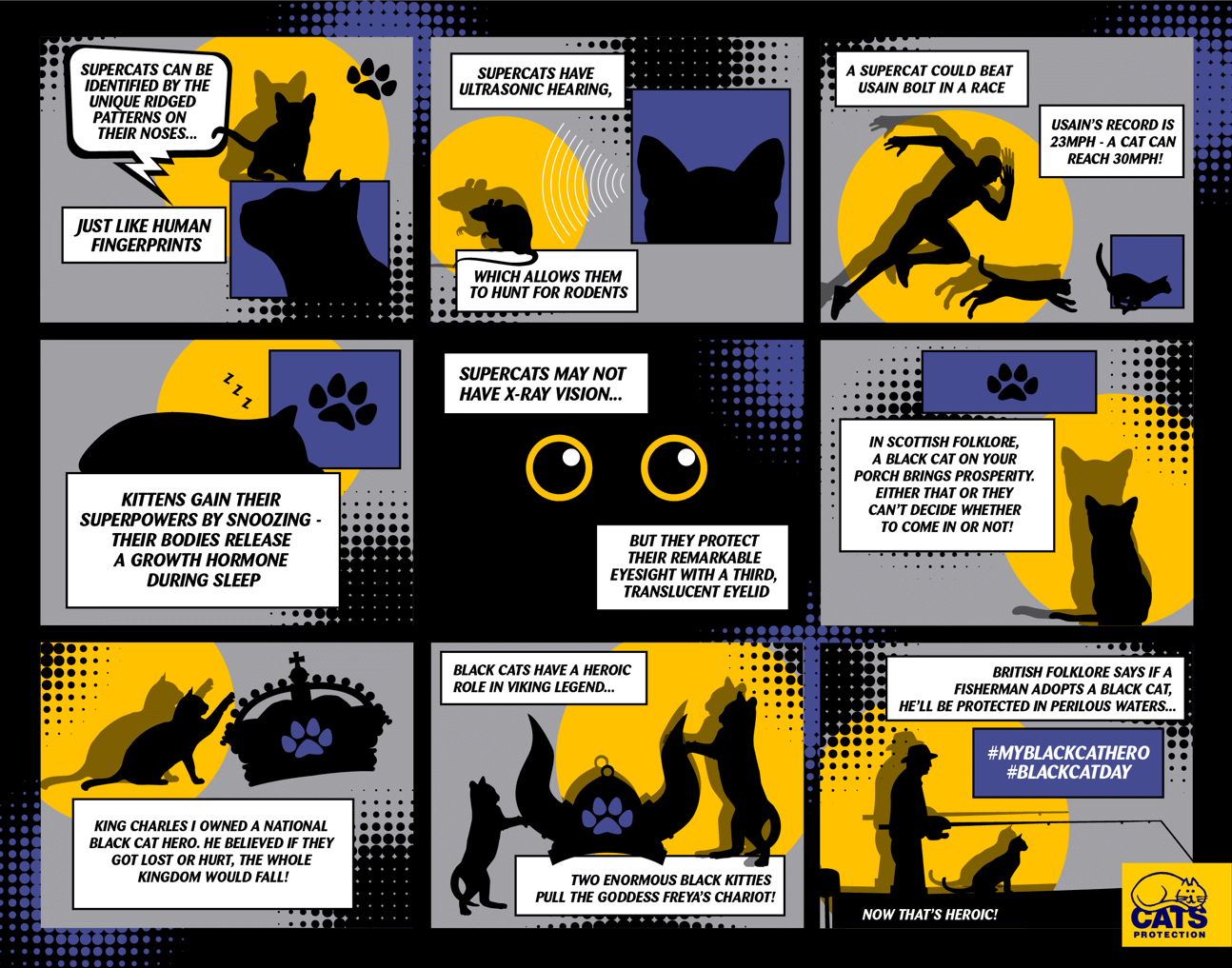 How can I help?
If you've fallen in love with our black cat heroes, and want to welcome one into your home, you can search for the perfect feline friend with our find-a-cat function. Search by location and lifestyle, and make a world of difference to a beautiful black cat today.
Grab a gift for a good cause at our Cats Protection Black Cat shop. From homeware to accessories, we've got black cat accoutrements for the whole family - the perfect way to help make our black cat heroes more visible.
Text KITTEN66 to 70660 to donate to our heroic team of Cats Protection volunteers, who help over 200,000 black cats and kittens a year around the UK. Your donation will help find loving homes for cats of every colour.
And of course, if you're the proud sidekick of a black cat hero, today is the day to let them know just how much you appreciate them. Whether it's extra cuddles on the couch, a new toy to play with together, or something special for supper, let us know how you celebrate with your black cat on Facebook, Twitter or Instagram.