Black cat Misty is adopted within 24 hours.
Beautiful Misty was the first cat this year to come into the care of CP's North Birmingham Branch. She was also the first of the branch's cats to be rehomed in 2013, thanks to the efforts of volunteers.
The dusky feline was taken in by CP on 2 January and was rehomed with Audrey Wright within 24 hours.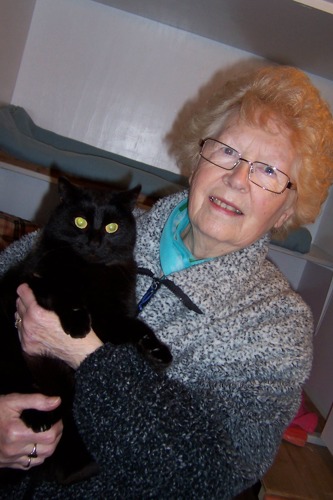 Misty's happily settled with new owner Audrey
Branch Fosterer Sheila Pennell, who looked after Misty for the very brief period she was under CP's wing, says: "It was great to rehome a cat in one day!"
Misty's new owner Audrey had just started looking for another cat as it had been a year since her previous puss, Rosie (also black), died. She wasn't intending to adopt another black cat, as she thought it would remind her too much of her much-missed pet. But when she met Misty, she quickly changed her mind!
"I picked her up and she let me cuddle her straight away," says Audrey of her first meeting with Misty.
As Audrey had already had her home visit from the branch, she could offer Misty a home straight away.
Misty has settled in well to her new home with Audrey. She enjoys playing with her cat toys and watching the world go by from the window.
To support more CP cats like Misty, just click here.