Unable to work due to her health conditions, Laura says volunteering for Cats Protection has made all the difference to her wellbeing this year
When cat lover Laura Duggan heard that a new Cats Protection adoption centre was opening in her hometown of Harrow, she was eager to volunteer with the cats.
Following a fall 12 years ago, which severely damaged the muscles all along her side, she has suffered with a number of health conditions including fibromyalgia, osteoarthritis and an autoimmune condition called Sjogrens Syndrome.
 
As her mobility is often quite limited, she had to leave her job as a call handler in London and is no longer able to work, but thought that volunteering would be a more flexible option.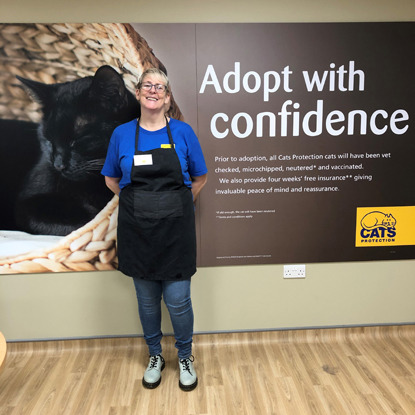 Enthusiastic Laura always volunteers with a smile 
She kept looking out for news of volunteer roles available and then in January 2020 she saw an advert for a cat care volunteer and applied straight away – on her 50th birthday which she was spending in Morocco.
Harrow Adoption Centre's Volunteer Team Leader Caroline Shilton, whose role has been supported by players of People's Postcode Lottery during 2020, said: "Laura joined us as a cat care volunteer shortly after we opened in Harrow in early March and was always present for her shift. Then lockdown hit and we were unable to have volunteers on site.
"However, in August we were able to welcome very limited numbers of volunteers back to the centre in the more restricted role of cat care support volunteer to ensure social distancing is preserved. It is very much a support role to the team, with little or no cat contact and lots of cleaning and laundry.
"But this hasn't stopped Laura! She applied for the role as soon as it was advertised and has been volunteering for us twice weekly ever since, and always with a smile.
 
"Laura's presence brightens the day for the team as she is always so enthusiastic and proactively looks for new ways she can help. She is even taking home damaged cat beds and things to repair them in her own time. She's currently working on fundraising ideas too!"
Laura, who has two four-year-old black-and-white cats of her own called Millie and Mollie, says that volunteering has been a real lifeline to her during the pandemic.
Laura said: "Having a routine and knowing I'm directly helping the team to care for the cats has helped me regain a sense of purpose and made all the difference to my wellbeing this year.
 
"Caroline is so wonderful and supportive and the whole team is very understanding of my health conditions, which is fantastic as I never know how much my body will be able to move from day to day. It's such a relief not to have any stress about this, as worrying would inevitably exacerbate my physical symptoms.
 
"Although there is less contact with the cats at the moment, I feel privileged to be able to help in any way I can.
"If I can take some of the strain off the team's shoulders by doing things like cleaning, it gives them more time to concentrate on the more skilled tasks that they are trained to do, such as giving medication and checking on the cats.
"It's still all part of the homing process and I know that in my own way I'm helping cats find their forever homes.
 
"Having been bed-bound for some time after my accident I'm just so grateful that I can have some semblance of a normal life.
"It was such a dramatic change going from being an active working mum to being stuck at home for so long, so it's wonderful to feel useful again!"
If you would like to become a Cats Protection volunteer, find out what roles are available near you at www.cats.org.uk/volunteering