Comedian Bob Mortimer gives cats 'romantic' names in a bid to help them find loving new homes.
Fond Margaret, Ron Com and DJ Loveham, these are just some of the names cat-loving comedian Bob Mortimer has chosen for unwanted moggies being cared for at Cats Protection's National Adoption Centre.
Bob started coming up with unusual cat names as a way to amuse his followers on Twitter and then began turning them into feline-themed artwork sold online by Wordynumnum.
A portion of the profits from each sale are donated to Cats Protection, so the charity invited Bob to visit its centre in Sussex to say thank you.


While he was there he got to meet some of the cats who have been given his 'romantic' cat names, which have been used in a 'Tender Gary' art print for Valentine's Day.
Bob explained: "I'm a big cat lover and have always had them in my life so it's great to be supporting Cats Protection, which does so much to help unwanted moggies. I have two cats at the moment, called Goodmonson and Mavis, but I love naming cats and am always calling them different things every day.
"I've loved seeing all the cats at the centre. It's a bit sad, but they're well cared for and it's nice to think they'll all be going to lovely homes."
Danielle Draper, Manager of Cats Protection's National Adoption Centre, said the charity was grateful to Bob, not only for supporting the charity but for also helping to inspire some new names for cats in its care. She added: "Sadly, with hundreds coming through our centre each year it can be hard to think up original names for them all."
Here are some of the cats named by Bob who will soon be looking for homes:
Fond Margaret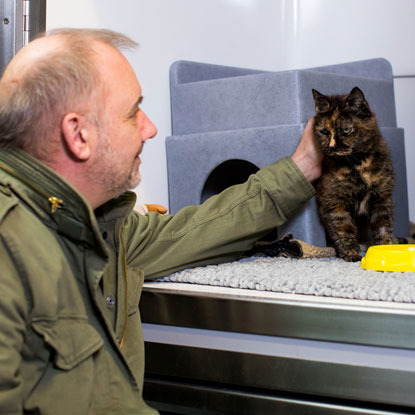 Credit: McCrickard Photography
Fond Margaret was found straying in a garden in Romford for six weeks plus. Her age has been estimated at 10 years old. She's a really sweet, loving, friendly girl who loves a fuss and will be available for adoption soon.
DJ Loveham
Credit: McCrickard Photography
DJ was found as a stray in Tunbridge Wells and had been in the area for up to a year. His age has been estimated at one-year-old. He is absolutely lovely, loves attention and is very talkative. He has a collar on at the moment to prevent him from scratching his wound, but will be available for adoption once this has healed. DJ would like a home with a garden with someone who can give him copious amounts of fuss. Dependant on a successful introduction at the centre he may be able to live with children.
Lacey Bedspread
Lacey was found straying in Camberley for six months. When she came in we located a microchip so contacted the owner but they'd rehomed her and the details weren't updated so we can't trace an owner. She's eight years 11 months old from the microchip. She's a very shy girl who's currently seeking security from underneath her fort. She's available for adoption now and is looking for a calm home where she can get used to things at her own pace.
Ron Com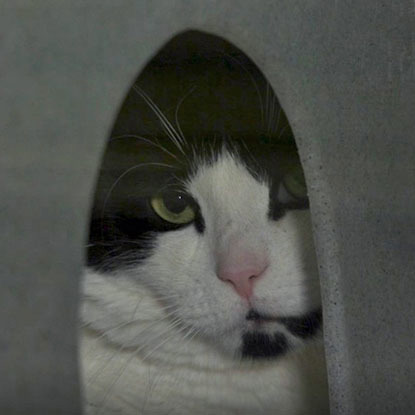 Ron Com was found straying in Basildon. His age has been estimated at six years old, he's black and white and available for adoption now. He's a very timid boy so probably looking for a really quiet home with an understanding owner who will let him settle at his own pace. It would probably be best he's homed without children or animals.
To find out about any of the cats currently being cared for at Cats Protection's National Cat Adoption Centre, please email the centre at cattery.reception@cats.org.uk 
To look for cats available for adoption in your area, visit the Cats Protection website.
We're delighted to say that the following cats named by Bob have already found their forever homes:
Tender Gary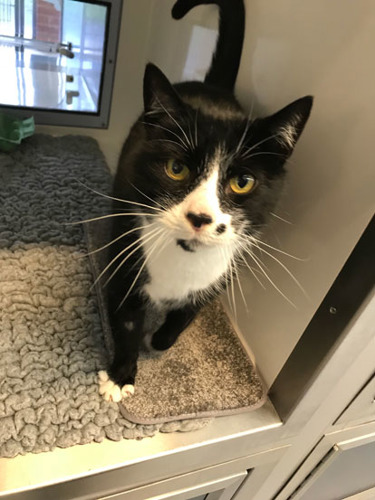 Tender Gary went to live with a man who is a huge fan of Bob Mortimer and was thrilled to adopt a cat named by him.
Softy Pinkpowders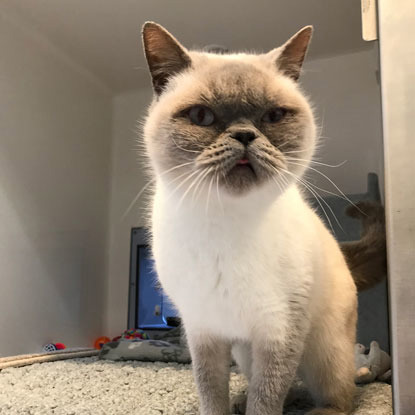 Softy was homed to a lovely couple who fell head over heels in love with her (how could you not?!).
Derek Snuggles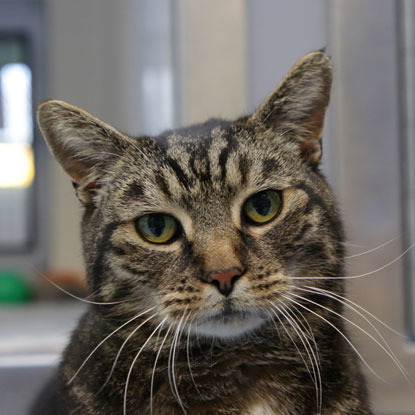 Derek Snuggles was in and out within eight days and has gone to live with a really lovely couple whose own cat recently passed away.
Carol Niceface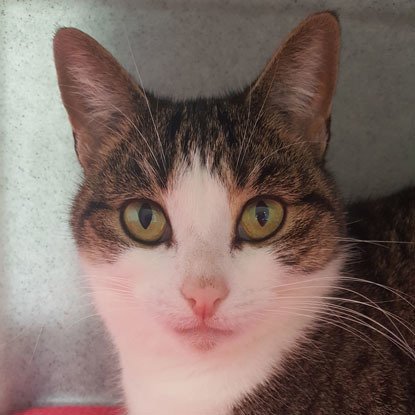 Carol came into care after her owner passed away, but it now settled into her new home where is shown lots of love.
Kedgeree & Candles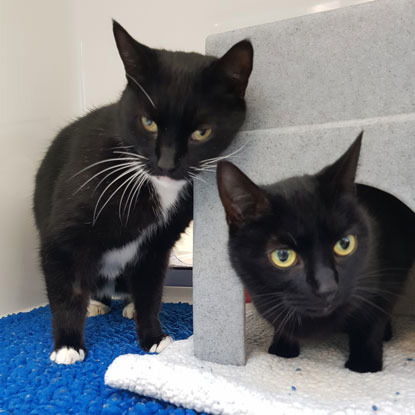 Kedgeree (male, black and white) and Candles (female, black) came into care with Carol Niceface but have now found new owners willing to fuss over them.