Willow finds her happy ever after despite her distressing journey in the back of a lorry.
In August 2017, a tiny black kitten arrived at Cats Protection's Bridgend Adoption Centre in a desperate state.
Poor Willow, as the centre staff named her, had been found hiding in the back of a lorry that had travelled all the way from Bristol. It wasn't until the driver stopped in Bridgend that he discovered his unexpected cargo and took her straight to Cats Protection just in time.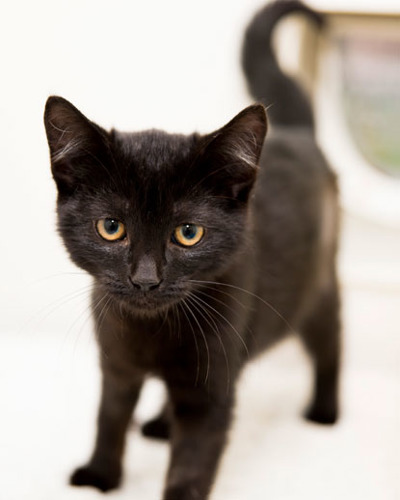 A 12-week-old Willow after she arrived at the centre
"Willow was in very poor physical condition when she arrived at the centre," said Bridgend Manager Sue Dobbs.
"She collapsed within a few minutes of arriving here. We didn't expect her to survive the trip to the vets but she is a little fighter and hung on in there. An X-ray showed no broken bones but she was suffering from hypothermia and had sustained a head injury."
With some expert care from the vets and the centre's staff and volunteers, Willow made a remarkable recovery.
After having no success finding an existing owner, she was soon given a new home where she could get back to doing what kittens do best…playing!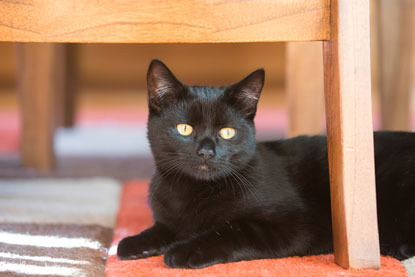 Willow has settled into her new home
"We decided to put in a request to adopt Willow because her story was so heart-wrenching," said Willow's new owner Allison Felton. "My daughter has also been very keen to have a black cat so in many respects she was perfect for us.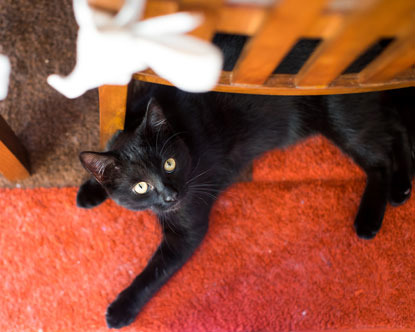 She is fully recovered from her traumatic journey
"She is so gentle and playful and has settled in very well. Initially, she was very jumpy, trying to escape by jumping through mirrors she mistook for windows. That has all now stopped now, though she is not an adventurous character, preferring to stay mostly in a couple of rooms where she feels safe.
"She enjoys nothing more than chasing her favourite toy, a fabric mouse, the length of the room, sliding across the wooden flooring. She also enjoys batting ping-pong balls around another toy.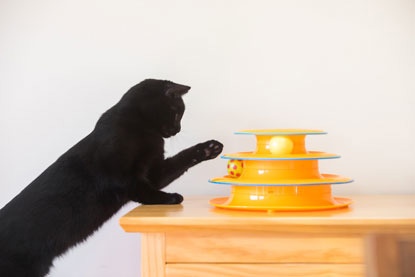 Playful Willow loves batting ping-pong balls
"She is, in cat terms, quite a clever cat, outwitting our existing cat easily! She also has big ambitions, sitting on our coffee table miaowing and chattering at a seagull (a regular visitor) that looks down at her through the window.
"At the end of a 'hard day' she likes nothing better than to curl up on her cushion on a rocking chair. We couldn't have chosen a better companion!"
For more heart-warming success stories about the cats helped by Cats Protection, take a look at the charity's 2017 Annual Review.