Poor Whiskers the cat went missing when she wandered away from home during the warm weather.
Reuniting cat owners with their moggies is an important part of Cats Protection's work, but sadly it's not always an easy task.
Many cats that wander away from home seek shelter in cosy sheds, garages and outbuildings, only to be accidentally locked in by unsuspecting property owners.
Linda Potham-Reynolds, a fosterer for our Teignbridge & Torbay Branch, knows all too well the stress this can cause. On Mothering Sunday in 2017, her tabby cat Whiskers went missing from her home.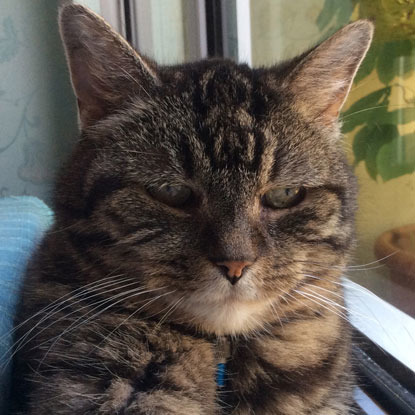 Whiskers wandered away from home last year
She said: "It was a lovely sunny day, she was in the kitchen at midday when I was getting ready to go to work but when I came home just after 5pm she didn't come running when she heard the car and she wasn't indoors, so I immediately knew something was wrong."
Straight away Linda began searching for her moggy, asking neighbours if they had seen her and posting about her on social media. When she had no luck, she hoped that Whiskers' collar and microchip would result in a happy reunion. "When she was lost it was the not knowing which was the worst."
Linda never gave up hope, and one week after she had last seen Whiskers, she was thrilled to see her cat wander down her driveway. "She was looking dazed and shaky, her eyes were sunken and she'd lost her collar. She ate and drank immediately and was obviously very pleased to see us."
A little while later, a neighbour knocked on the door with Whiskers' collar in his hand. "He said the day she went missing his garage was open because he was gardening," said Linda. "He was storing some furniture including a sofa in his garage, obviously Whiskers thought this was a good place for a snooze. Sadly she wasn't noticed when the door was closed."
Seven days later, the neighbour had gone back into the garage to move the furniture and Whiskers had run out. He then noticed the collar on the floor and, realising how long she must have been trapped for, decided to visit her owners to check she was ok.
"Whiskers quickly made a full recovery," said Linda. "Sadly I don't think that the same can be said of the sofa as the neighbour explained that she had used it as a litter tray!"
Sadly, stories like Whiskers' are all too common, and not all of them have such a happy ending. Cats Protection received almost 2,000 calls about missing cats to its National Information Line over the last year, with the highest numbers reported in the last two months. And these figures are just the tip of the iceberg as many more cats are reported missing via social media and directly to each of the charity's 250 branches and 36 centres across the UK.
"Cats tend to wander more during warmer weather which explains why we've seen a rise in missing cats over the last couple of months with the UK experiencing such a heatwave," said Cats Protection's Behaviour Manager, Nicky Trevorrow. "They are notoriously curious creatures and like to investigate their surroundings meaning they can often become trapped in outbuildings. In addition, cats won't always meow for attention if they are afraid, making it more difficult to realise they are there, so we'd recommend having a really good check before locking up any outbuildings, particularly if you are aware of any cats missing in your area."
To help prevent other cats like Whiskers from suffering, Cats Protection has launched the #LookBeforeYouLock campaign to encourage people to check their sheds, garages and other outbuildings regularly for missing cats.
We've even created a handy door hanger that you can put on your shed or garage door to remind you to look carefully before you lock up. Download it from https://www.cats.org.uk/help-and-advice/home-and-environment/keeping-cats-safe-outside where you'll also find lots of advice for what to do if you've lost or found a cat.