A case for early neutering: Black-and-white cat Maddie is heavily pregnant at just nine months old.

A nine-month-old cat has arrived in Cats Protection's care heavily pregnant, highlighting the importance of early neutering.
Maddie was barely more than a kitten herself when she was taken in by Cats Protection's Birmingham Adoption Centre after her owner had died. She arrived at the centre with 18-month-old Margot and three-year-old Mason.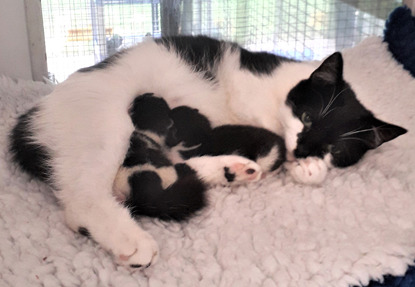 Maddie with her newborn kittens
None of the cats had been neutered and the team at the centre believe Margot and Mason are likely to be Maddie's parents while Mason is likely to also be the father of Maddie's two kittens, who have now been named Micah and Maddox.
You can follow the kittens' progress on Birmingham Adoption Centre's Instagram page.
Maddox at one week old
"As they are essentially only kittens themselves they don't always have a fully developed nurturing instinct. In these cases we sometimes have to help them to clean and toilet their kittens but Maddie is doing everything perfectly so all we need to do is watch them grow and make sure everyone is happy and healthy.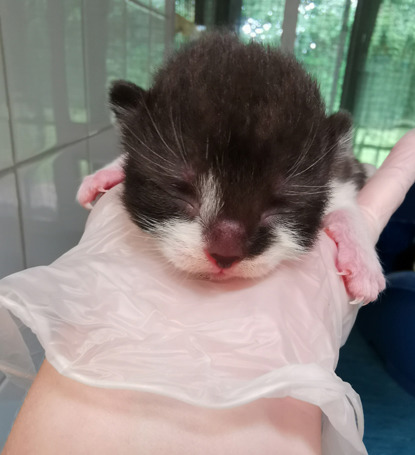 One-week-old Micah
"It's very easy to forget that pregnancy in cats is risky and with limited vet appointments currently available, if your cat becomes pregnant she may not have easy access to the help she needs.
"Cats have no emotional need to become pregnant and neutering has a number of health benefits to both male and female cats. As a charity we are able to support owners on limited incomes with the costs of neutering pet cats once vet practices are fully operational again."
The young family's story illustrates commonly held misconceptions about pregnancy and mating between cats.
In a recent survey of 1,000 cat owners, Cats Protection discovered 77% of respondents were unaware a female cat can become pregnant as early as four months of age, while 86% did not know an unneutered female can have as many as 18 kittens in a year.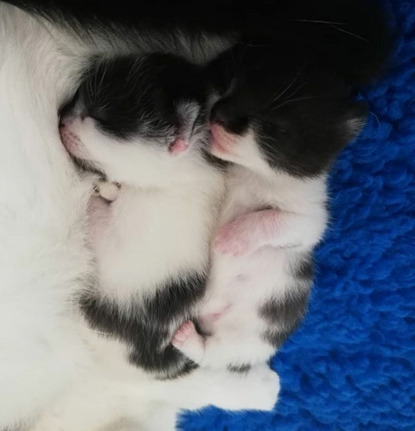 Micah and Maddox at two weeks old
As a result of fewer vets being able to carry out neutering during lockdown, we estimate as many as 84,000 extra kittens could be born this summer.
To stop cats becoming pregnant and to prevent additional pressure on already over-stretched vets, we recommend:
keeping unneutered cats and kittens indoors to prevent unplanned litters
contacting your vet to discuss whether you can book ahead for a neutering operation
ensuring unneutered brothers and sisters are separated – cats will mate with their family members, so it is best to keep them apart
For more help and advice about neutering, visit https://www.cats.org.uk/help-and-advice/neutering-and-vaccinations/neutering-your-cat
Cats Protection may also be able to offer assistance towards the cost of neutering your cat. To find out if you are eligible call the Neutering helpline on 03000 12 12 12 (option 2).
Micah and Maddox will be available for adoption once they are past nine-weeks-old. Keep an eye on the Birmingham Adoption Centre's website to find out when they become available.