The incredible difference that cat Arthur has made to his owner Emily's life and her mental health.
Due to her serious mental health issues, Emily Hatton from Sandbach, Cheshire was told that she would never be able to live in the community on her own.
That was before she found gorgeous black-and-white moggy Arthur.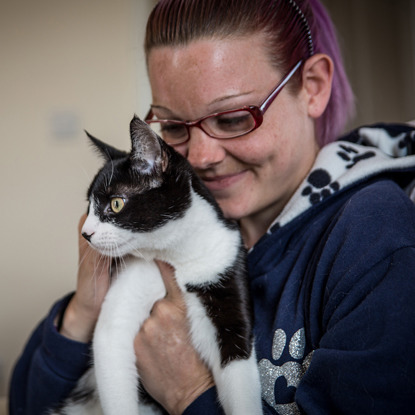 Emily Hatton and her cat Arthur
Arthur arrived in Emily's life in 2017, just after she had been discharged from a mental health unit. Since then, Emily has been able to live independently for the longest period in her adult life – an achievement she credits Arthur with making possible.
"Arthur is proof that cats can change people's lives because he's changed mine," said Emily. "Since the age of 16 I've been in and out of mental health wards, with 18 admissions up to the age of 21. 
"Last year I came out of hospital after a three-and-a-half-year admission to a mental health unit. That's when I got Arthur and since then I've not been back in hospital once with my mental health.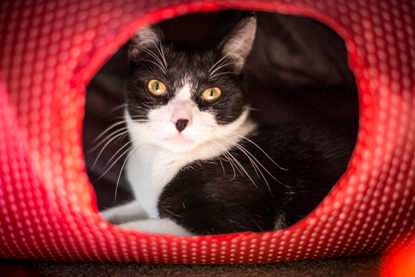 Arthur has transformed Emily life
"He's always there, he's my best friend. Coming out of hospital after so long, I needed a best friend and that's what he became.
"He's there to welcome me when I get in, so I never return to an empty home, and he's there to help me through the dark days. He's a reason to get up and he's always there to listen to me."
In August 2018, Arthur won the Most Caring Cat award at Cats Protection's National Cat Awards because of his positive impact on Emily's life. After collecting the award on Arthur's behalf.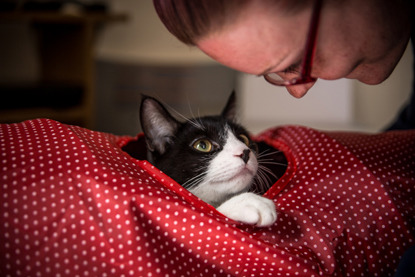 Emily nominated Arthur for a National Cat Award
Emily said: "I'm over the moon that Arthur has won this award as he has really changed my life. I hope our story will help more people understand just how much cats can help people with mental health issues.
"Winning this award means I can give something back to him and I'm thrilled other people can see how special he is."
Arthur was chosen as the winner by celebrity judge Deborah Meaden, who presented Emily with the award at a star-studded ceremony at London's Savoy Hotel.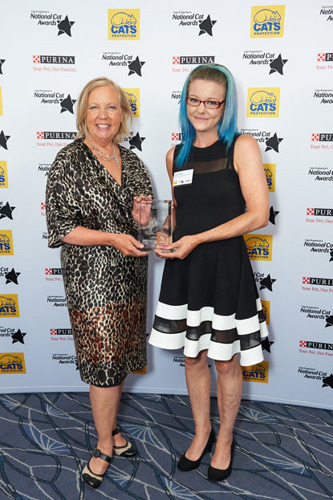 Deborah Meaden presenting Emily Hatton with Arthur's award
Deborah said: "Emily and Arthur were the choice for me as I have a sense of the ongoing and daily support that Emily has from Arthur in simply living her everyday life.
"Emily has problems facing the world and Arthur supports her every mood and every moment simply by being there and connecting her to the world."