Sixty-six marathons for Cats Protection and still going!
An inspirational cat lover from Shepton Mallet, Somerset, is gearing up to run her 66th marathon for Cats Protection, despite suffering from a serious health condition.
45-year-old Emma Challis has been a volunteer cat fosterer for Cats Protection's Glastonbury & Wells Branch since 2010 and has represented the charity at every marathon she has run so far.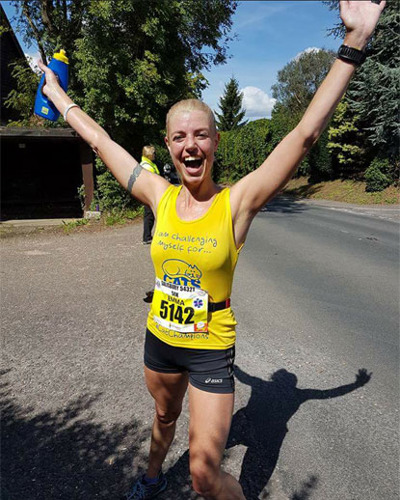 Emma began running long distance in 2013 as a way to help her strengthen her muscles after recovering from two serious accidents; she damaged her spine in a car accident in 1997 and then fractured her pelvis after falling down the stairs in 2007.
Then, in 2016, Emma was diagnosed with a long-standing blood clotting condition which had caused her pain for many years. At a hospital visit a few days after completing the Taunton Marathon she was told that she had 'multiple prominent clots' in her lungs.
"I'd been suffering from the condition for around 15 years but it had never been diagnosed," Emma explained. "Now, with treatment, I've been able to reduce my marathon running time to under four hours!"
Emma's doctor has recommended running as a good way to prevent her blood clots, and so after recently completing the New Forest Challenge Marathon she is now preparing for her next few events; the Taunton Marathon on 8 April and the Brighton Marathon on 15 April – her 66th marathon.
Last year, the amount she raised in sponsorship from her runs, plus adoption fees for cats she rehomed, totalled an incredible £1,100.
Emma, previously a vet nurse and now a mobile beautician, also has two rescue cats of her own, a tabby-and-white female called Diddy Kitty and a black female called Isis.
She added: "I absolutely adore cats, they're just beautiful creatures. I love helping animals in need and it's amazing to see how a little TLC goes a long way."
To support Emma's fundraising efforts, visit: www.justgiving.com/Emma-Jane4
If you're interested in taking part in an event for Cats Protection, visit: https://www.cats.org.uk/support-us/events/challenge-events/running-events email events@cats.org.uk or call 01825 741 960.
To find volunteering opportunities in your area, visit: https://www.cats.org.uk/support-us/volunteeropportunities