An adopted cat leads a woman to her dream job with Cats Protection.
Tracie Atkin was inspired to change her lifestyle and career when someone new came into her life – her cat Bella.
Having worked in banking and insurance for many years, Tracie began working from home as a mortgage adviser and decided to get a cat for company.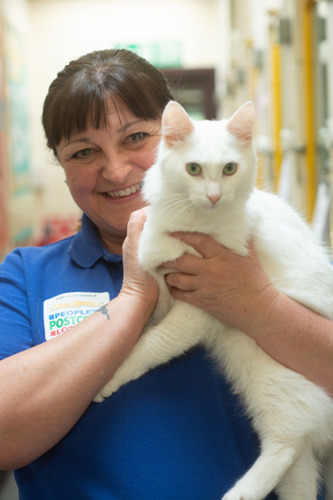 "I'd had cats in the past, but because I was frequently away from home for work, I wasn't able to have one.
"Then, when I became a mortgage adviser, I got Bella. She was such a fantastic companion she inspired me to give something back and do more to help cats," said 53-year-old Tracie.
"I contacted Cats Protection's Exeter Axhayes Adoption Centre about becoming a volunteer and before long I was helping out as a cat care assistant.
"I loved being able to give something back and it was a welcome distraction from my stressful job as a mortgage adviser."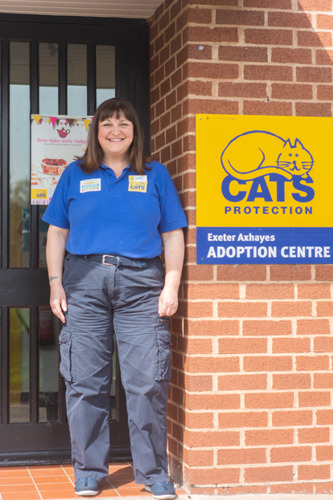 Soon a job for a volunteer team leader became available. Tracie successfully applied for it and, a year later, she says she doesn't miss mortgage advising for a minute.
Tracie's role is now funded thanks to players of People's Postcode Lottery who have raised over £1 million of support for the charity to date to help fund both volunteer team leader and cat care assistant roles across England, Scotland and Wales.
She said: "I can honestly say 'I love my job'. We have a terrific group of volunteers who not only help look after our cats, but also help with fundraising.
"I look after 98 volunteers and 11 of these are supported volunteers who come in with their carer. They help with cat socialisation and find this really helps with their mental wellbeing.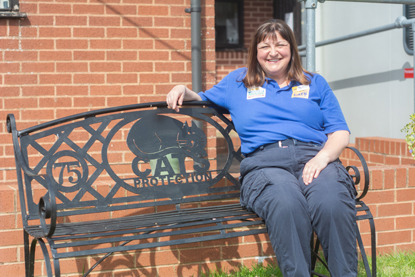 "Now I've settled into my job as volunteer team leader at the Exeter Axhayes Adoption Centre and the Taunton Homing & Information Centre, I want to do even more for Cats Protection, so I've decided to do a parachute jump to raise as much money as possible for the cats and kittens at the centre – a skydive has also always been on my 'bucket list'.
"I have no fears about doing it as I'm a bit of an adrenalin junkie and love rollercoaster rides. I just hope the weather is good on the day and we can raise lots of money for Cats Protection's Exeter Axhayes Adoption Centre.
"I'm thrilled that volunteers Will and Abi are also taking part in the challenge – and we'd love it if anyone else would also like to join our skydive team!"
The skydive – either tandem or a solo static line jump – will take place on Saturday 14 September 2019 at Dunkeswell Airfield, near Honiton, Devon.
Tracie and the team will reach speeds of 120mph and freefall for up to two miles. As they descend they'll enjoy views of the Devon coastline as well as Cornwall, Somerset, the Bristol Channel and South Wales.
You can sponsor Tracie via her JustGiving fundraising page. If you would like to take part in the skydive and help raise funds for your local Cats Protection branch or centre, you can contact the Fundraising Events team on 01825 741 960 or email events@cats.org.uk 
Find out more about joining Cats Protection as a volunteer here or employee here.