Our partnership with pet insurance company Petplan® has raised millions to help the cats in our care.
Since their partnership with Cats Protection began in 2001, Petplan® has helped us raise £7 million, together with our supporters, branches and centres.
Left to right: Cats Protection CEO James Yeates, Cara Zaleski from Petplan, Cats Protection Chairman Linda Upson, Mykela Purdy from Petplan and Cats Protection Director of Operations Mark Beazley 
All cats that are adopted as pets can come with four weeks' free insurance from Petplan® to ensure they get the best possible start in their new home. Pet insurance is a key part of our adoption package as we want owners to feel confident when adopting and we believe in providing all the cats in our care with the best possible start.
We celebrated this milestone at our National Conference this June, which Petplan® proudly supported. The £7 million from Petplan® is a tremendous accomplishment and has enabled the charity to help even more cats around the UK. Find out below how these funds have helped cats like Chesney find their forever home.
Chesney's story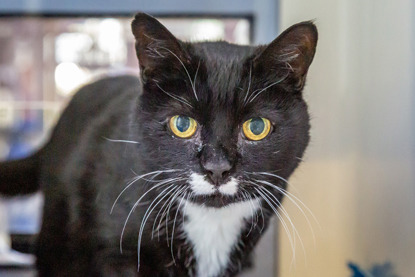 Chesney, a 14-year-old black-and-white cat was brought in to Cats Protection's Hornchurch Branch in January as sadly his owners were moving into a flat where the landlord wouldn't allow pets. Chesney arrived with his sister, but the pair were split up as they didn't like each other's company that much!
Unfortunately, Chesney didn't find his forever home while at the branch, perhaps due to his age and a diagnosed kidney disease. Therefore, Chesney was moved to the National Cat Adoption Centre to hopefully help him find his forever home.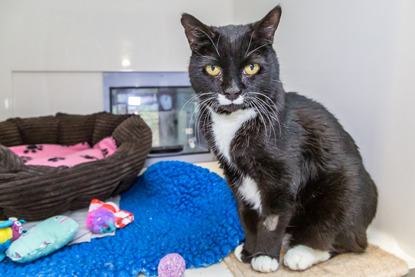 While at the centre Chesney spent lots of time in the enrichment room looking out on to the specially planted enrichment garden, planted to attract the wildlife with bird and squirrel feeders. Chesney loved spending time in there watching the world go by and was a much-loved cat in the centre by all the staff due to his friendly nature.
After a few months, we were delighted to say that he found his forever home in May. Chesney is now enjoying home comforts and is settling in well with his new owners.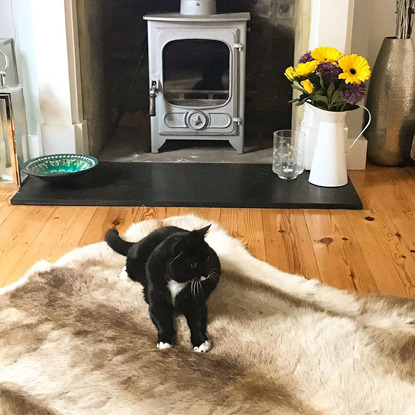 His new owner said: "From opening the cat basket, he jumped straight out and strutted round the house. Within the first hour, he was on the sofa and rolling around on the rug. I don't think he's stopped purring!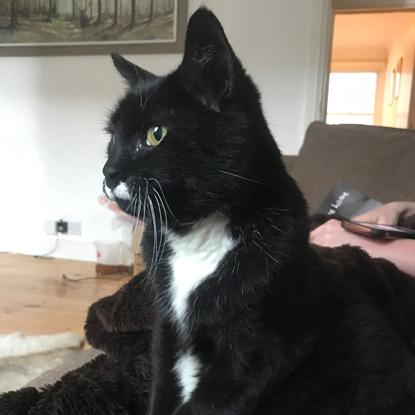 "He's a wonderful boy and we've spent this Sunday afternoon watching David Attenborough in bed (he actually watches the TV!). Thank you for looking after such an amazing little man!"
A big thank you to Petplan®, from us and all the cats and kittens in our care like Chesney, for their continued support.
If you are interested in homing a cat, please visit www.cats.org.uk/adopt-a-cat