Cats and arthritis: spot the signs and adapt your home
Arthritis is a common condition in humans that causes pain and inflammation of the joints but did you know that cats can have it too? It's particularly common in cats aged 12 or over (in a study published in 2002, two-thirds of cats over 12 showed evidence of arthritis in their limb joints). But because cats are very good at disguising pain, it can be very difficult to detect.
For National Arthritis Week (9–16 October 2017), Cats Protection has put together a useful infographic to help you identify the common signs of arthritis in your cat and give you some handy tips for managing their condition.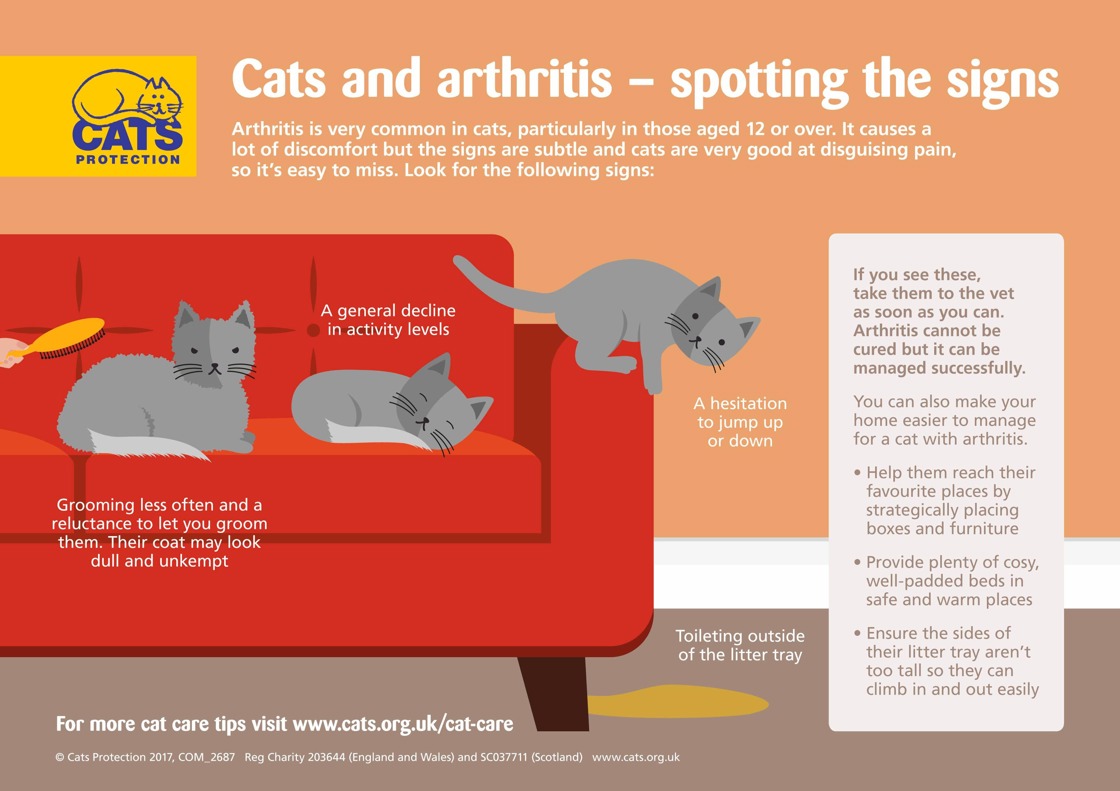 Common signs of arthritis in cats
grooming less often and a reluctance to let you groom them (their coat may look dull and unkempt)
a general decline in activity levels (they might spend more time resting or sleeping and playing less)
a hesitation to jump up or down and difficulty using the stairs
toileting outside of the litter tray
changes in temperament such as being more irritable when handled or stroked
If you notice any of these signs, the first thing you should do is take the cat to the vet. Unfortunately there isn't a cure for arthritis but there are a few things you can do to make your cat's life a little more comfortable.
How to adapt your home for a cat with arthritis
helping them reach their favourite places by strategically placing boxes and furniture to be used as steps
providing plenty of cosy, well-padded beds in safe and warm places
making sure food and water are easily accessible to them
ensuring the sides of their litter tray aren't too tall so they can climb in and out easily
making sure the cat flap is very easy to open
To find out more about common cat illnesses and conditions, read our cat health guides.