Missing cat Monty is reunited with his family two years after going walkabout.
A cat who was missing for nearly two years has been reunited with his owner after finally turning up in a village three miles away.
Four-year-old Monty was reported as a stray to Cats Protection's Bracknell & Wokingham Districts Branch after taking shelter in a garden in Farley Hill.
A quick scan of his microchip revealed the details of his owners, who had been searching for Monty ever since he went missing from their home in Aborfield in 2017.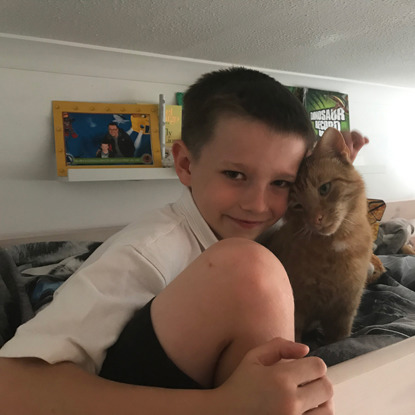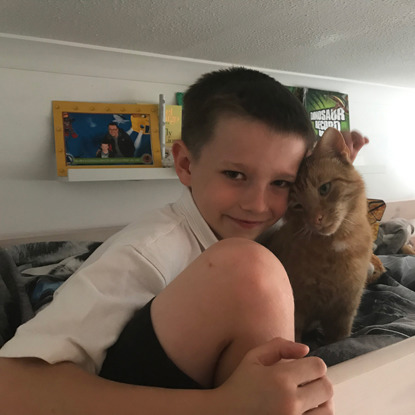 Aaron is reunited with his best friend Monty 
Relieved owner Lydia Butler said: "We had only just moved to our new home, and despite keeping him indoors, Monty had snuck out of a small gap and must have become disorientated.
"We were so devastated and searched the streets, putting up posters and delivering fliers, but there was no sign of Monty at all. Our son Aaron took it particularly badly, as they were very close. All the time he was gone, Aaron never stopped talking about Monty.
"Eventually, and with a heavy heart, we came to the conclusion he had probably died in a road accident. So we were absolutely over the moon when Cats Protection called to say he'd been found. We brought him home, and he recognised Aaron straight away – they've been pretty inseparable ever since."
Lydia added that the family have no idea where Monty could have been while he was missing, but that he seemed in good condition when he was found.
The happy reunion comes as Cats Protection renews calls for a change in the law to ensure that all owned cats, like dogs, are microchipped.
Microchipping is a safe, permanent and cost-effective method of identification which ensures cats can be reunited with their owner should they go missing. It means lost cats are not mistaken as strays and taken in by rehoming charities.
Microchipping also ensures owners can be notified if their cat has been injured or killed in a road accident. Cats Protection encourages local councils to scan any cats they collect that have died in road accidents for a microchip so their owners can be informed.
Jacqui Cuff, Cats Protection's Head of Advocacy & Government Relations said: "It's always lovely to hear of stories where cats have been reunited with their owners, but most of these happy endings are only possible if a cat has been microchipped.
"Microchipping is an essential part of responsible pet ownership, and is already compulsory for dogs. This should now be extended to ensure all owned cats are microchipped, giving the same level of protection to keep them safe and protected."
Find out more about microchipping.