How to cope with pet-related grief – part 3
Cats Protection understands just how much your cat means to you and what you may be going through if your pet is missing, had to be rehomed, is nearing the end of their life or has recently passed away.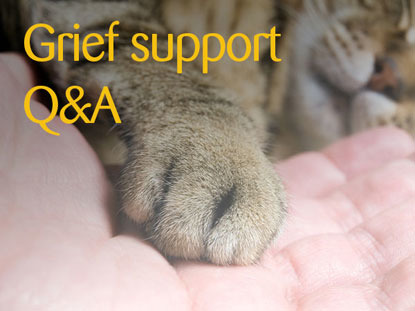 To support cat owners at this difficult time, Counsellor and Pet Loss Specialist Julia Dando took to our Facebook page to talk to them about their grief.
Here is just some of the advice she gave:
I had my cat put to sleep because someone poisoned him and I'm having trouble coming to terms with having to make that decision.
I keep seeing his beautiful face as he was leaving me!
What a heart-breaking thing to have to go through. The decision we make when we have to let our pets go doesn't really feel like a choice but can leave us feeling devastated and guilty. On top of those feelings you're also having to deal with feelings of anger towards whoever left poison for your cat. So many unanswered questions and little room for any kind of closure.
All these circumstances can make it incredibly difficult to come to terms with what has happened and will have a great impact on the way you grieve for your cat. Grief can be very chaotic and is unique to everyone. If you would like to talk through what happened with someone please do ring our volunteers on the Paws to Listen Grief Support Service on 0800 024 94 94 – Mon-Fri 9am-5pm.
I lost my 18-year-old cat just before Easter – he'd been with me from eight weeks old from CP.
I'd just moved into my house and he was my first major addition. I can't believe how much I'm grieving for him. I miss him every day. I still call for him when I come home in the evening... even though he was deaf as a post by the time he went, well I think he had select hearing actually! But he was such a huge part of my family life – I have two other cats and a dog, so the house isn't completely empty, but it is if you get my drift. My cat's ashes are in my spare room as that's where he liked to sleep sometimes, and to be perfectly honest, I say good night every night, and if a song comes on the radio I like, we dance... he did love to dance on my shoulder. I just wanted to share... I know time is a great healer, but sometimes venting or writing down your memories helps, well it does me. Thanks for listening.
Grief is very individual and different for everyone. There is no 'normal' when it comes to grieving. The bond you had with your boy was strong and your relationship was significant. Just like when we lose anyone who was such a significant part of our lives, it hurts. Loss hurts.
There is no set length of time for grief – for some people it eases after a few weeks or months, for others it can take much longer. It sounds like you had an incredibly strong bond with him – and you miss him so much still. Allow yourself the time to grieve, he was so very special to you.
I've had my elderly cat since he was about 12 weeks old and he has just turned 18.
He has lost his hearing and is losing his eyesight slowly too. Arthritis has set in and although he is old and stiff he can still race and jump like a kitten. He had two days last week when he refused to eat but drank a lot and slept in strange, awkward positions. He has lost weight and I can feel every bone in his spine and hardly weighs anything when I pick him up. He has a large lump that is squishy and has grown rapidly since the New Year. He is such an affectionate and loving boy and purrs loudly in my ear at night. I think it will be time to say goodbye to him soon, how can I cope with this?
It's so hard when we see our pets decline in front of our eyes. What a long time you've been together – from when he was just a kitten to 18 years old. Over such a length of time he will have been with you through so much of your life and likely many changes and experiences. This will have made the bond you have with him so very strong, which makes it all the harder to consider his leaving.
In this type of instance, it is likely you will be experiencing anticipatory grief once you've been given a prognosis by your vet. Grieving can start way before they are gone and you may well feel the responses to grief already.
You might find some of our grief leaflets helpful in your preparations for what is to come and do consider calling Paws to Listen as and when you need to.
I recently lost my cat due to cancer which was growing in his mouth.
I have had him since I was 12 and I am now in my late twenties. He was my best mate and was there through everything with me. I had to make the awful decision to have him put to sleep – he wasn't eating, was drooling loads and just spent most of the time hidden under the bed. The house seems so quiet now.
Your cat was with you for so much of your life – a massive hole will have been left by his loss. He's been through so much with you – he's family.
It's a wretched decision to have to make when the time comes and difficult to come to terms with. Through your cat's life you took care of him, fed him, kept him clean, warm, healthy... you took responsibility for the quality of his life. It is the hardest thing to do to continue that responsibility on into the care of their death. The hardest and bravest thing we can do for our beloved pets.
Please do consider ringing the Paws to Listen Grief Support Service from Cats Protection on 0800 024 94 94 – open Mon-Fri 9am-5pm if you would like to tell us about your cat and talk through your feelings around his loss.

Whether you are facing the heartbreak of your cat passing away, want help with difficult issues like euthanasia, a cat who has gone missing or need someone to talk to about your loss: we are here for you.
The Paws to Listen service is a free and confidential phone line, that you can call to talk to one of our trained volunteer listeners. While we are unable to offer counselling, we can provide you with a sympathetic ear at this difficult time. Call us on 0800 024 94 94. The line is open 9am-5pm, Monday to Friday (excluding bank holidays).
As well as the phone line, there are a number of free online guides and leaflets to help owners deal with grief-related issues: https://www.cats.org.uk/what-we-do/grief