Fearless fundraiser vows to mark her 70th birthday with a wing walk at 130mph!
While most people would be happy with a party and some cake for their birthday, two dedicated Cats Protection supporters have something more adrenaline-fuelled in mind.
To celebrate turning 70, Dorothy Hyman from Weymouth, Dorset will be strapped to the wings of a Boeing Stearman biplane and take to the skies to raise money for Cats Protection.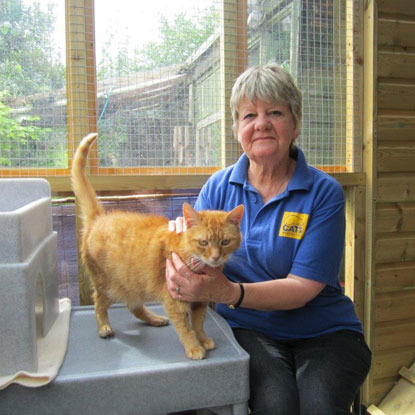 Dorothy fosters cats until they find their forever homes
Dorothy said: "I thought what better way to celebrate than by fulfilling a dream of feeling the wind in my hair at 130mph, while helping local cats at the same time!"
Having fostered cats for Cats Protection's Weymouth & District Branch for the last two years, Dorothy knows the importance of raising funds for the charity's vital work. All the money Dorothy raises will go to Cats Protection's Weymouth & District Branch.
"I love helping to care for the many abused, neglected and unwanted cats the branch takes in," says Dorothy. "I am hoping that kind members of the public with sponsor me to undertake this challenge."
Another cat lover marking a milestone birthday with an extreme challenge is Mary Keenan from Conwy, Wales.
Mary is planning to celebrate her 80th birthday by reaching speeds in excess of 100mph on the Zip World Velocity zip wire.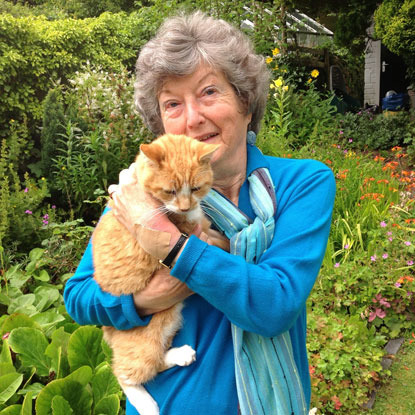 Mary's cat Sandy is going to give the zip wire a miss!
"I turned 80 in January and wanted to do something different to celebrate, while also raising money for cats," says Mary. "What better way to do this than by chucking myself down the fastest zip wire in Europe!"
She added: "I've volunteered for Cats Protection for 30 years, 25 of which I have fostered for, so the charity is very close to my heart." All the money Mary raises will go to Cats Protection's Colwyn & District Branch to help them rehome and neuter cats in the area.
If you would like to sponsor these brave Cat Champions, you can find Dorothy's Just Giving page here and Mary's page here.
To find out how you can take part in a challenge event to raise money for Cats Protection, visit https://www.cats.org.uk/support-us/events/challenge-events or get in touch on 01825 741 960 or events@cats.org.uk