A Christmas Day dip in the cold sea for cats!
Each year thousands of brave souls from across the country don their bathers and head to the coast to take part in a festive dip in the sea.
The annual tradition sees fundraisers sport fancy dress or even strip down to their swimwear before charging into the waves – all in aid of their favourite charity.
In 2017, cat-lover Danika Mabbitt had never considered taking part in a festive dip event, but after being dared by a family member she was determined to do it.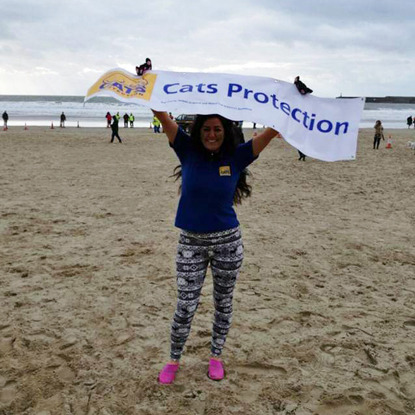 "My brother said he'd be doing the Porthcawl Christmas Swim. It's a Christmas morning dip at Sandy Bay in Bridgend and I suggested I might take part too, to which he replied "you'd never do that!"
"In that moment I knew I had to do it and my mission had begun! I wanted to help Cats Protection as they looked after my babies Dexter and Dinx before I adopted them," she explained.
"The water was very, VERY cold and I was shivering for hours afterwards, but it was so worth it. The best bit for me was knowing that I had helped so many local cats."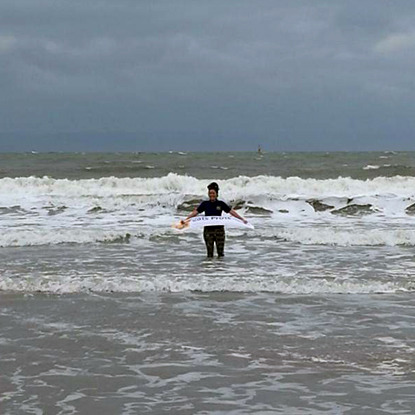 Fast forward to 2018 and Danika decided to do the nippy dip for the kitties for a second year, this time in memory of her much-loved cat Dexter.
"I was heartbroken after Dexter passed away," she said. "I wanted to do the Christmas Swim again for my ginger, fluffy feline, my little tiger."
And after throwing herself into fundraising for the event by selling toys to her work colleagues, Danika raised more than £500 for Cats Protection's Bridgend Adoption Centre.
"The whole experience has been amazing. I've helped the fur babies in need and proved my brother wrong, TWICE!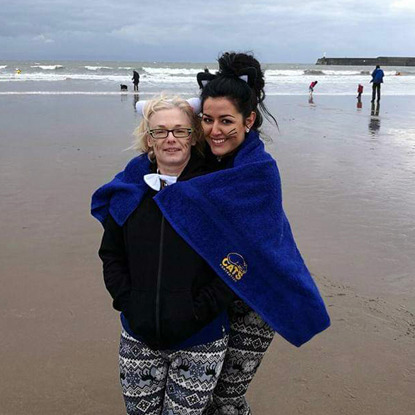 "To anyone thinking about taking part in a dip this year, I'd say 'give it a go'. You don't need to swim too far and it is so worth the warm feeling knowing you are helping cats and kittens in need."
If you'd like to dip for cats, find a local event you would like to join, register it with us and we'll be sure to support you all the way. 
Plus, if you raise over £150 we will even send you a beautiful snuggly blue Cats Protection beach towel to wrap up in afterwards!