Can you help these kittens who have lost their eyes?
Two kittens found outside with their seven siblings near Bridgend have had to have emergency surgery to remove their eyes.
Rome and Ranchi were unlikely to have survived alone much longer if they had not been discovered by a cat-savvy member of the public.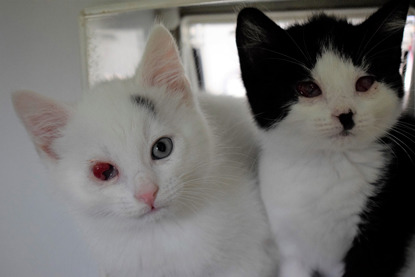 The pair were just four weeks old when they were found along with seven other kittens, far too young to be away from their mother.
The lady who found them noticed that all the kittens seemed unwell and called Cats Protection's Bridgend Adoption Centre for advice and assistance.
The kittens needed round-the-clock care as they could not yet maintain their own body temperatures nor could they manage basic skills such as feeding and toileting.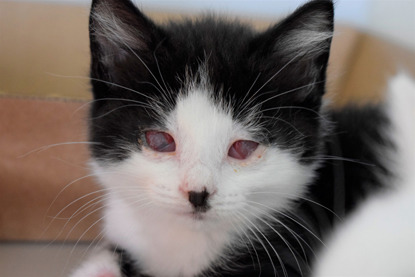 The centre's cat care assistants, whose roles are supported this year by players of People's Postcode Lottery, needed to step in and provide the tiny cats with all the love, care and nurturing they would usually receive from their mother.

Although the whole litter was very poorly with cat flu, which can be fatal to kittens, Rome and Ranchi were also suffering from painful ulcerated eyes as a result of the illness, which can be caused by viruses or bacteria.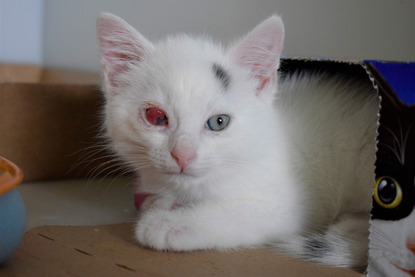 Now that they are seven weeks old, despite trying several courses of treatment, it has not been possible to save the kittens' eyes. Rome has had surgery to remove one eye while Ranchi needed both eyes removed.
Deputy Centre Manager Molly Hughes says: "Kitten season is well underway here at the centre and we were lucky that Rome, Ranchi and their siblings were brought to us in time. We don't know anything about their mother but once social distancing allows we will return to where they were found to try and find her and ensure she has been neutered, most likely through our trap, neuter and return programme for outdoor or feral cats. This will prevent her having any more unwanted kittens in the future.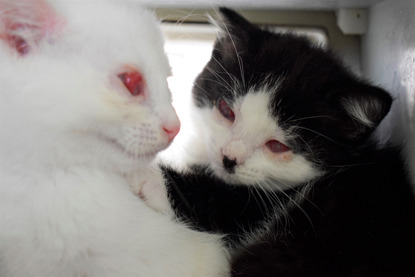 "It is a really expensive time for us as we fight to help so many tiny souls that come through our doors. We are therefore appealing for funds to help cover the cost of vet treatment and surgery for these two lovely kittens whose bills have exceeded £800 so far. We are grateful for every £1 donated, without the kindness and generosity of our supporters we couldn't continue to help kittens like Rome and Ranchi."
If you would like to donate towards covering the coat of Rome and Ranchi's surgeries, please visit the centre's JustGiving page or text BRID to 70577 to donate £5 (see T&Cs here).
Once they have recovered from their surgery and flu symptoms, Rome and Ranchi will be in need of a new loving indoor home, ideally together. Their details will be posted on the centre's website as soon as they are available.
With neutering on pause for many vets because of the COVID-19 lockdown, there could be an extra 84,000 kittens that need our help this year.
To help us be #HereForTheCatsAndKittens, you can donate to our appeal. Any donation will help us to save the lives of litters like this one, providing them with security, warmth and a healthy start.