Four orphaned kittens rescued from a rabbit hole
A litter of kittens found huddling in a rabbit burrow at a holiday complex in Aviemore, Scotland has been successfully rescued thanks to a team effort by staff, guests and Cats Protection. 
There had been sightings of kittens by staff and guests at High Range complex for several days but whenever anyone went to find them they had gone back into hiding.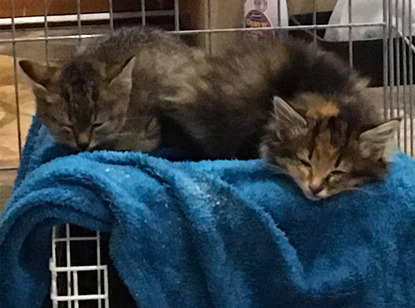 Two of the rabbit hole kittens after being rescued
Receptionist Rachel Paterson said: "Our site manager had seen the kittens a day or two earlier while doing a drive-round check of the caravan park. I had gone down to the area to look for them, but hadn't had any luck at that point.
"The next day one of our resident guests had come up to reception to ask if we could do anything about the cats as they were currently in their awning.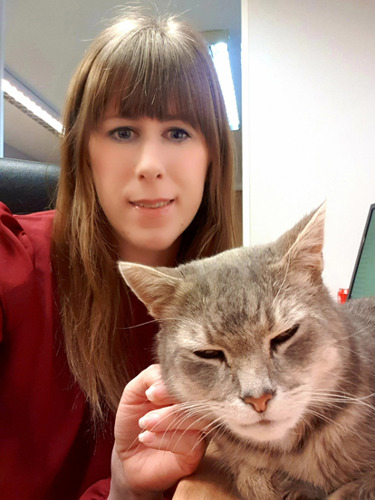 Receptionist Rachel with one of her cats
"I went down with the guest and we tried to catch the kittens who were under their caravan by that point, but soon discovered they were hiding in a rabbit burrow."
Local Cats Protection branch steps in to help rescue the kittens
Rachel called in our Strathspey Branch to help and, after being led to where they were last spotted, Branch Coordinator Peter Norgate and his wife Margaret set traps with food in the hope of tempting them out. 
Within minutes a six-week-old ginger kitten proved hungry and brave enough to venture out of the hole and into the harmless trap.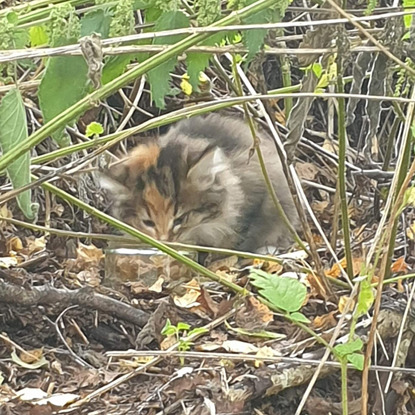 One of the kittens spotted at the holiday complex
Peter and his team left their details with the occupants of the nearest camper van and asked them to get in contact if any other kittens popped out. They were called back just minutes later when another kitten was trapped. In all it took several days to bring them all to safety.
"Life as a Cats Protection volunteer is never dull!" said Peter. "We certainly got to know the route to High Range well as we were back and forth collecting the kittens. 
"Sadly, a cat was reported killed on the road in the area in the same week as these kittens were found and we believe it was the mother, which is why they were left all alone.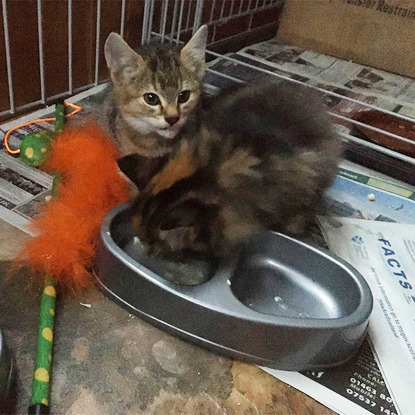 Two of the kittens enjoying a tasty meal
"Tortie, Abbie, Ginge and Rufus are now in foster care and at the moment they are just getting used to us. We hope in the coming days to begin to socialise them so that we can then begin the process of finding them their forever homes." 
A cat lover herself, Rachel was delighted to see all four kittens taken into care, knowing how cold the nights were and that heavy rain was on its way.
Rachel said: "It was a real case of team work as many people were involved in the whole weekend of trying to rescue all four kittens, from Peter and Margaret, to myself and other staff members checking traps, to guests who also volunteered to check on traps.
"I have had cats for as long as I can remember, many from birth, and currently have three elderly girls of my own. It has been a bit of deja vu for me as my eldest cat was a feral kitten from a colony where I worked at the time, and would have been around the same age as these kittens when I took her home 15 years ago."
The chance meeting between Rachel and our Strathspey Branch has also resulted in her signing up to becoming a volunteer, after being invited to help run the branch's social media pages.
The rabbit hole kittens are not yet available for rehoming, but keep an eye on the branch's website for details of when they are ready to find new homes. 
If you would like to learn more about becoming a volunteer with Cats Protection, visit www.cats.org.uk/support-us/get-involved-volunteering