Elderly cat Dotty finds her perfect home.
This post has been written by our Gosport Town Branch
Sixteen-year-old Dotty came into the care of the branch in November 2016 having lived with one owner since a kitten and kept as an indoor cat. New rules by the landlord meant that Dotty wasn't allowed to stay in her home and she was reluctantly handed over to Cats Protection.
Sadly Dotty's health wasn't the best, she hadn't seen a vet since she'd been spayed as a young cat, and once in Cats Protection's care had numerous trips to the vet including extensive dental surgery and a geriatric profile which revealed early stage kidney failure for which a renal diet was recommended.
Despite the branch's best efforts Dotty was a hard-to-home cat and potential adopters were put off on hearing all her problems. A different tack was taken in presenting a letter as a plea for Dotty on her adoption blurb and being upfront that she needed a special diet but had a lot to offer.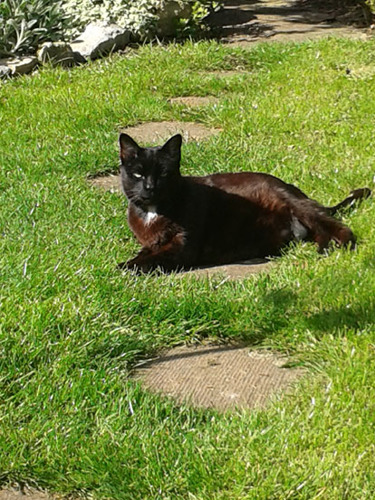 Happily Dotty was adopted in March 2017 and we've received an enthusiastic update a few days ago from Tricia, her new owner.
Such a positive outcome for a 'harder-to-home' cat seems too good not to share.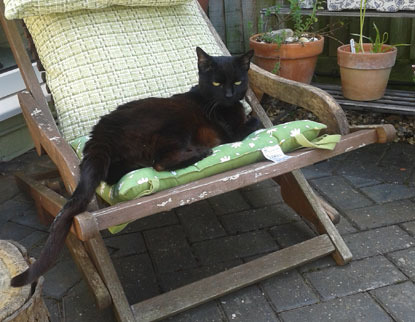 It seems it didn't take Dotty long at all to get settled with Tricia who sent this heart-warming update in May 2017.
"Just a quick note to let you know that Dotty has settled in well, in fact she was settled in within the first 10 minutes of arriving at my house! I've never had a cat make themselves at home so quick. She has slept on my bed since the first night.
"I'm sure somewhere in her history she has had access to a garden and a cat flap, she didn't need any training to use mine and was not nervous at all on her first venture into the big open world. She loves the garden and often supervises me when I'm working out there.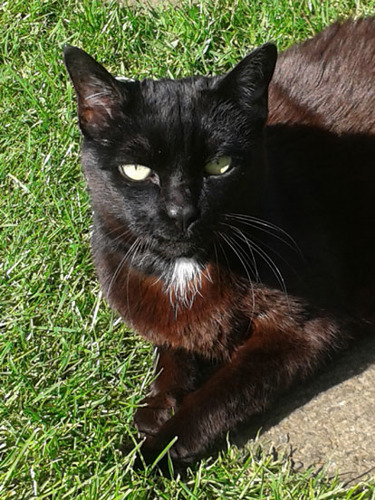 "She is very good company, loves to play and enjoys a fuss. You wouldn't believe she is 16! She is a very special cat and everyone adores her. Thank you so much for introducing me to her."
Everyone at the Gosport Town Branch is thrilled that Dotty has the perfect home and that Tricia saw beyond the number of birthdays that Dotty has had.