Mature Moggies Week: Wonderful elderly cats who have settled in their new homes.
Kittens may be cute, but older cats still have a lot of love and purrs to give those looking for the purrfect feline companion.
Sadly, mature moggies aged 11 and older in Cats Protection's care take over twice as long to find their forever home as their younger counterparts. These senior kitizens take an average of 33 days to be adopted, while kittens are typically adopted in just eight days.
To raise awareness of older cats still looking for homes, Cats Protection is hosting Mature Moggies Week from 13-17 November. Across five days we will be highlighting the benefits of adopting an older puss and providing helpful cat care information for anyone who owns, or is thinking of owning, a feline friend.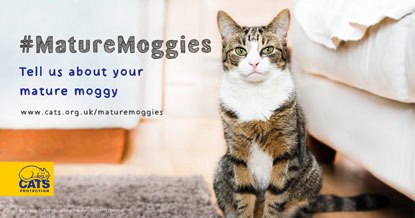 In a survey conducted by Cats Protection, just 24% of people said that they'd consider adopting an older cat, compared to 68% who would be happy to home a kitten. Reasons people gave for not wanting to adopt an older cat included; the fear that it wouldn't live long, concerns over health, worries about the cost to nurse an old cat back to health and the belief that an older puss would not be playful.
However, as many owners of older cats will know, mature moggies can make the best pets. When asked about the benefits of owning a senior kitizen, the top reasons owners gave included; they are calmer, they don't want to leave the house as much and they feel like they are more of a family member. To purrsuade those who may still not be convinced an older cat is for them, we have invited some proud owners of mature moggies to share their 'tails'…
Albert, 13-14 years old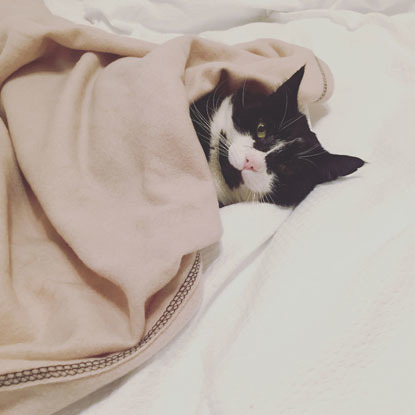 Handsome black-and-white puss Albert, previously known as Mr Boots, had been in the care of Cats Protection's Trafford Branch for two long years before Charlotte and her fiancé Dave adopted him. Charlotte said: "After reading Mr Boots/Albert's story on the Cats Protection website and hearing about the clear love he had for people, adopting him was an incredibly easy decision to make. People regularly say how lucky Albert is to have been adopted and to have such a loving home. But genuinely, I feel the opposite is true... we are incredibly lucky to have him!" Charlotte and Dave describe adopting Albert as one of the best decisions they have made and would encourage others to consider giving a mature moggy a home. "The great thing about having an older cat is the reassurance," said Charlotte. "They are there to greet you at home and they are grateful for the love and care you give them. My fiancé and I both have busy careers. When we are not at home, there is nothing to worry about as Albert just eats and sleeps. When we are at home, he loves to have a cuddle and now regularly plays with his toys. Having an older moggy suits our lifestyle...those with busy careers will find an older moggy is a great choice."


Vinnie, 16 years old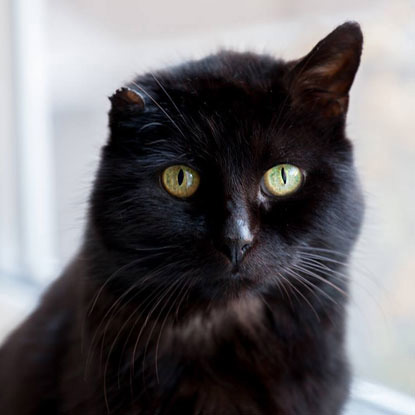 Adorable black cat Vinnie had been living as a stray and was in a bad way when he came to Cats Protection's Gateshead & Newcastle Branch, but as soon as Nicole and her partner Chris saw his photo they instantly fell in love with him. Nicole said: "Vinnie is such a quirky character and so loveable. He follows me everywhere around the house and loves nothing more than snuggling up to me in the evenings. It's also nice knowing that we were able to offer him a home for however many years he has left (which I hope is still lots more to come)." Nicole believes that just because older cats are quieter and sleep more doesn't mean they should be overlooked. She added: "For those wanting to adopt a cat, please don't just limit yourself to looking at kittens or young cats. Adopting a mature moggy brings just as much happiness as a younger cat would bring. They may have more medical conditions but they just want to be part of a loving family and to be loved too. I couldn't imagine life without my mature moggy. Vinnie really is such a character that I can't put in words how much I love him."
Clove, 13 years old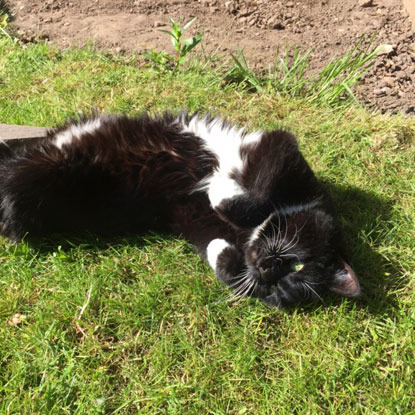 Monochrome moggy Clove came to Cats Protection's Warrington Adoption Centre when her owners moved house and couldn't take her with them. She had been in their care for three months before Clare and her husband Rob arrived looking for a cat in need of a home. "There were quite a few people there at the time, all bypassing Clove in favour of younger cats. She looked so forlorn! We asked to be let into her enclosure and she immediately settled into my husband's lap and started to purr. We both knew we couldn't leave her there." Clove has now settled into her forever home and is the queen bee of the house. "She loves chin rubs and to chase her little toy squirrel around with more gusto than our other cat who is seven!" said Clare. "If anyone has any hesitation about adopting an older cat, please tell them about Clove. We couldn't imagine life without her and we hope she'll have a good few years ahead of her yet."
Valentine, 15-16 years old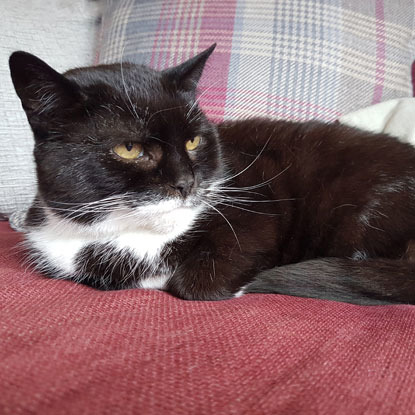 Valentine was found living under a local college on Valentine's Day (hence her lovely name), and was looking bedraggled, cold and thin when she was taken into Cats Protection's Camberley & District Branch. When Tracy saw an appeal to find Valentine a home she couldn't resist meeting her and the two had an instant connection. "Valentine is the most wonderful girl and everyone in the family loves her to pieces," said Tracy. "She can be found anywhere warm in the house...bed, sofa, sunny window (and usually gently snoring!). She enjoys a walk around the garden on warm days. We feel so incredibly lucky to have her." Tracy thinks that it's a shame older cats are overlooked when it comes to finding loving homes. She said: "They are usually fully house trained, don't stray, are calm, relaxed and love nothing more than a comfy place to snooze the day away. With good care they can live long and happy lives!"
Guinness, 15 years old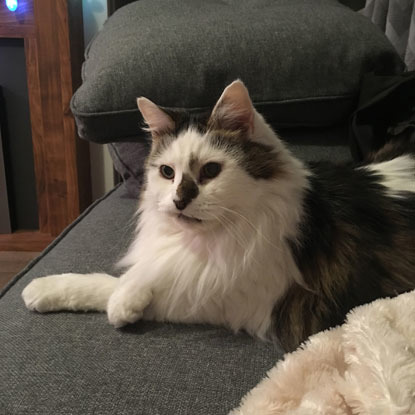 Gorgeous Guinness came to Cats Protection's Camberley & District Branch when his elderly owner went into a home and was unable to him with them. He had been waiting for a new owner for some time when Alanna saw his advert. She said: "I felt really sad that after living with his owner for so long they had to be separated and thought Guinness should be able to spend his last years living in a happy home." Despite him having only three teeth left and being a bit overweight, Alanna decided to take him home and he is now happy, settled and has lost some excess pounds. "He is very greedy and very lazy and enjoys watching the world go by out of the window," said Alanna. "He can sleep literally anywhere! He also gives lovely gummy smiles, which always make us laugh, and is also partial to hiding in some very odd places that are guaranteed to give you a shock, like in draws and cupboards, behind lamps and his favourite, when I'm not looking, is in my handbag!"
To find out more about mature moggies, visit the Cats Protection website.
If you're the proud owner of a senior kitizen, show the world just how amazing they are by leaving a comment below or sharing your photos and stories on Facebook, Twitter and Instagram using #MatureMoggies.