Cruel gang tries to drown seven-week-old kitten in engine oil.
Our Wear Valley & Darlington Branch is looking after a kitten rescued from a gang of teenagers who tried to drown him in engine oil.
Ginger Chester, who is around seven weeks old, was saved by a passer-by who spotted the kitten being doused in the toxic substance on 30 July.
Chester was taken to the vets for treatment and to be cleaned up – some of his fur was so soaked with oil that it had to be trimmed.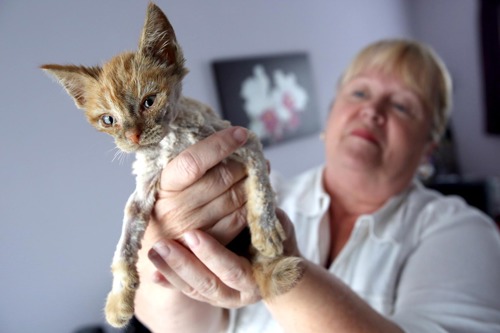 Chester, pictured with Branch Co-ordinator Marion, after he was cleaned and treated by vets. Photo credit: Northern Echo
He's now being cared for by the branch, is on antibiotics and – while he still sounds a little raspy from swallowing some of the oil – has been steadily improving.
Branch Co-ordinator Marion Maychell said: "Chester is doing well and seems recovered though does have a few behaviour quirks and fights being handled which is hardly surprising."
While it's too soon to say for certain, the branch hopes Chester will make a full recovery and go on to find a loving new home.
To support our working caring for unwanted cats and kittens like Chester, please click here. Thank you!