Cats Protection's National Black Cat Day ran for 10 years – here's how the campaign started and how it evolved to become a nationwide celebration 
National Black Cat Day is Cats Protection's annual campaign to celebrate black and black-and-white cats.
We launched this special day back on 27 October 2011 because we discovered that it took the black cats in our care a week longer on average to find a home than cats of other fur colours.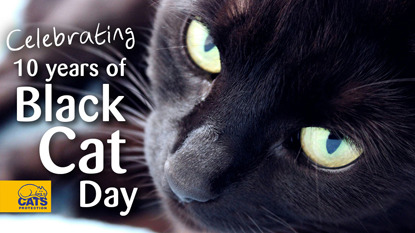 To help these marvellous monochrome moggies find their forever homes more quickly we set aside a day to convince people to give black cats a chance, and the campaign has really grown in support over the years.
Here's a look back at how National Black Cat Day became such a huge success…
2011 – Meet Billy Noir-Mates
Thousands of people backed the UK's first ever Black Cat Awareness Day – as it was known then – on 27 October, which drew attention to the hundreds of homeless black cats in Cats Protection's care and the apparent reluctance of people to adopt them.
Fictional mascot Billy Noir-Mates was the face of the campaign, starring in his own video and on our social media pages.
Our Twitter hashtag #CPBlackCats was in the top 10 trends on Twitter and at one point it was the third most talked about subject among UK users, temporarily beating Justin Bieber! The campaign also attracted support from celebrity cat-lovers including Twiggy Lawson, Samantha Fox and creator of Simon's Cat, Simon Tofield.
Black Cat Awareness Day was so successful that we decided to turn it into an annual event.
2012 – Black cat dress-up
In the campaign's second year we changed the name to National Black Cat Day and really embraced the power and reach of social media. We asked our supporters to upload pictures and stories of themselves dressed as black cats and to share photos of their own real-life black cats. We also encouraged people to change their social media avatars to a specially designed black cat version.
Model Lucy Pinder showing her support for black cats
Model Lucy Pinder helped us to promote the campaign which reached nearly 330,000 people on social media.
2013 – Bring on the black cat videos
In 2013 we invited owners of black and black-and-white cats to share photos of their pets on Instagram. We received more than 2,000 entries and created a poster to showcase some of our favourites, which was used as a homing campaign in a shopping centre.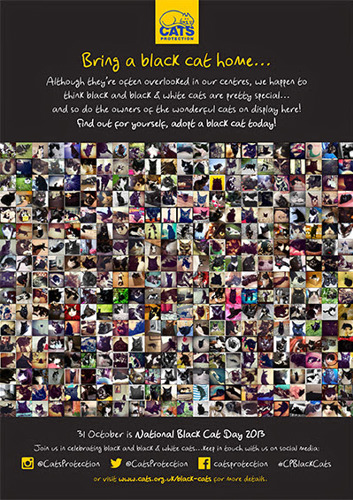 Our poster showcasing all your lovely black cats
We also encouraged our supporters to send in funny videos of their black and black-and-white cats – Emma Wallis' video of her bin-loving cat Rupert topped the votes.
Finally, we developed a black cat download pack on our website, which contained photos, posters and a black cat mask for cat lovers to spread the word.
2014 – Bobby the first Black Cat Champion 
In 2014 we launched a National Black Cat Day Champion competition on Facebook which invited our supporters to share photos of their rescued black cats. The winning Champion was Bobby who stole the hearts of our supporters, receiving nearly 1,000 Facebook likes. Bobby won a professional photoshoot and became our rehoming 'poster cat'.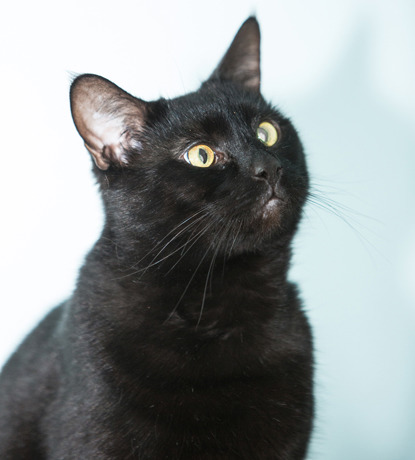 Beautiful Bobby, our 2013 Black Cat Day Champion 
We also encouraged people to share their black cat photos on Twitter with our #CPBlackCats hashtag and on our website we had a section full of cute, beautiful and funny videos and photos of gorgeous black and black-and-white cats.
2015 – Busting the myths about black cats 
Following the success of our inaugural National Black Cat Day Champion competition we decided to go on the search again and this time Lemmy was crowned the winner, receiving a hamper of cat goodies as his prize.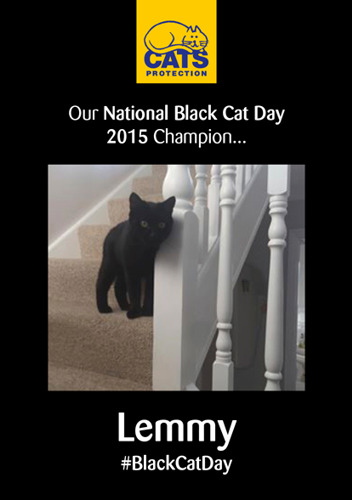 Lovely Lemmy won our 2015 Black Cat Day competition 
We also conducted a survey which revealed that the myth that black cats are unlucky seemed to be taking hold with the younger generation who perhaps were being influenced by American attitudes.
12% of those surveyed aged 18 to 24 stated that they thought black cats were unlucky, while only 2% of those aged over 55 agreed with this view. In response we launched a video showing the five most common misconceptions about black cats to bust the 'unlucky' myth.
Our #BlackCatDay campaign was one of the most popular trending topics on Twitter and was supported by renowned fashion designer and black cat owner Elizabeth Emmanuel.
2016 – Beauty is more than fur deep
Lovely Caspar was chosen as the face of 2016's National Black Cat Day, beating 4,000 other entrants in our online competition.
Owner Jane Scott from Surrey said she and husband Andrew were delighted Caspar had been chosen as the feline figurehead for black cats. She said: "Caspar is a truly lovely cat – he is very friendly, playful and loves to be around people, so we're thrilled he has been chosen as the face of Black Cat Day 2016."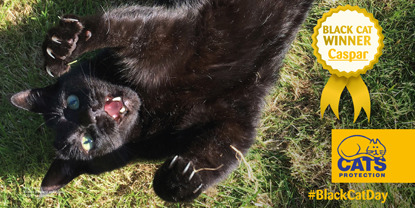 Crazy Casper was crowned the winner for Black Cat Day 2016
Our social media campaign centred around the idea that beauty is more than fur deep, as we mocked up our own black cat dating app to help people find their purrfect match.
On the day #BlackCatDay was the top UK trend on Twitter, and it even trended in the US too.
2017 – Unsung black cat heroes
The search for the nation's black cat heroes was on in 2017, as we launched our campaign calling for dark-furred defenders to come out of the shadows.
#BlackCatDay was once again trending all day on Twitter and the campaign received national coverage in the press.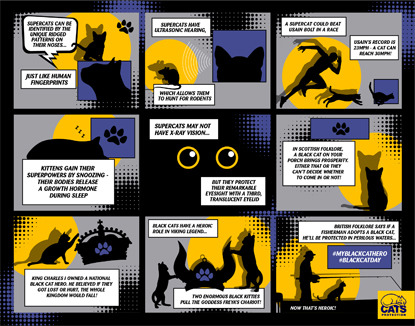 Our comic strip championing dark-furred defenders 
Over 3,000 black cats entered our #MyBlackCatHero competition and the winner was Joffrey, an inspiring moggy owned by Fay Schofield. She said: "Unlike his Game of Thrones namesake, Joffrey is definitely one of the most generous and loving individuals you'll ever meet… I'm really privileged that Joffrey and I can lend our voices to the needs of cats around the UK."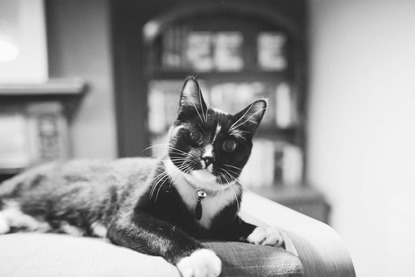 Joffrey was our black cat hero of 2017
2018 – 50 shades of black cat
In 2018 we celebrated National Black Cat Day by releasing our '50 shades of black cat' colour swatch charts, helping cat owners identify their cat's true hue.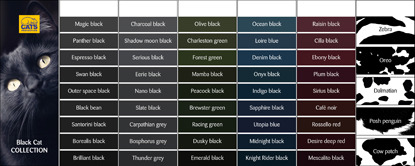 Our '50 Shades of Black Cat' colour swatch charts 
We were inundated with photos of monochrome moggies identifying as 'Sirius black', 'Thunder grey' or even 'Posh penguin', and created a round-up of our favourites.
We also gave a run-down of our favourite black cats from TV and film, and explored the truth behind some black cat superstitions.
As well as trending on Twitter once again, we were thrilled that our #50ShadesOfBlackCat campaign helped several of the black cats in our care find loving new homes.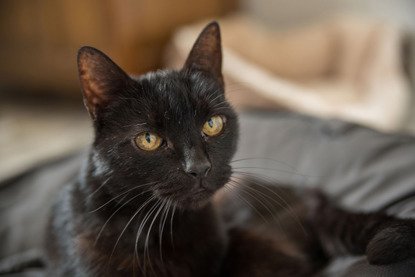 Kitkat from our Lichfield & Tamworth Branch found a new home
2019 – Team black or black-and-white?
National Black Cat Day attracted some fantastic celebrity support in 2019, with comedian and self-confessed cat fan Bob Mortimer creating a wonderful 'tail' to highlight that black cats are often overlooked. He even read 'The Tale of Liquorice Mick' for us in a lovely video.
Bob said: "I decided to write Liquorice Mick especially for Black Cat Day as black cats seem to be the hardest to rehome. It always seemed odd to me as black cats are especially beautiful, like cheeky little friendly panthers."
Over on social media we asked our supporters to join #TeamBlackCat, captained by actor Josh Dylan or #TeamBlackAndWhiteCat, led by director Joe Cornish and share why their black kitties are #MoreThanJustABlackCat.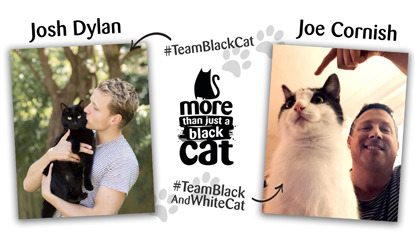 Josh Dylan and Joe Cornish led our Black Cat Day teams
On #BlackCatDay itself, conversation about the campaign was seen on Twitter over 15 million times and it was featured several times in the national press.
Oh and to make sure owners of cats of other colours weren't left out, we gave some tips on how to turn your cat into a black cat.
2020 – Celebrating 10 years of #BlackCatDay
A decade on from the very first National Black Cat Day, we were thrilled to see that all that campaigning for monochrome moggies had paid off.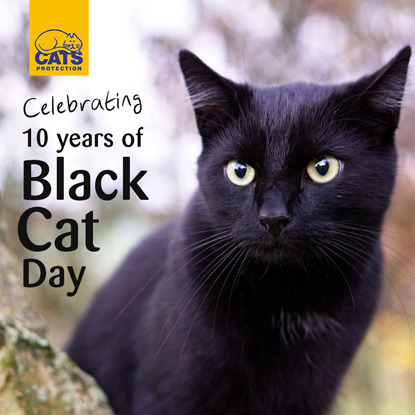 On average black cats now spend ten days less in our care before being rehomed than they did 10 years ago.
Since 2011 our centres have found new homes for over 65,000 black and black-and-white cats and in the last five years, we've reduced the length of stay for these cats in our care by 21%.
In 2019 black cats took only two more days on average to find a home than cats of other colours.
So in 2020 we celebrated 10 years of Black Cat Day success, sharing some of our highlights from the past decade on our social media pages. Of course, we also encouraged you to get involved too, by sharing your black cat photos and stories on 27 October with #BlackCatDay.
For more information about National Black Cat Day, visit https://www.cats.org.uk/support-us/events/black-cats