Vet Sarah Elliott answers cat health-related questions including how to help an overweight cat to lose the pounds and how to get rid of fleas.
In our latest live Facebook FAQ event, resident vet Sarah Elliott took control of our national Facebook page to answer questions from cat owners and supporters.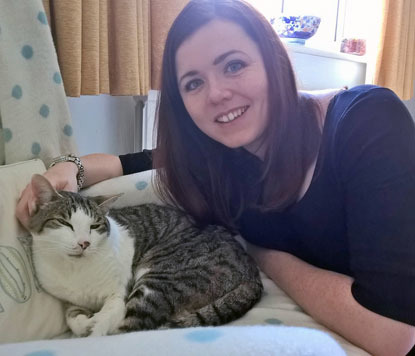 Sarah Elliott answered questions live on our Facebook page
Don't worry if you missed out, our feline specialists will return again soon; have a look at the bottom of this post for upcoming dates to pop in your diary.
Here are some of the questions that Sarah answered:
How do I help my overweight cat to lose weight?
My cat is overweight – he weighs 7.5 kilos. When I cut him down from four sachets a day he simply goes on his food run and eats dried food and puts even more weight on. Any tips?
It can be tricky to diet cats, especially when they have access to food sources elsewhere! Most vet clinics will run a free weight loss clinic for pets and they should be able to recommend a tailored programme for your cat. Encourage him to play and use feeding puzzles when you feed him his meals instead of a food bowl. Food puzzles are available to order online or you could make your own – see our video below.


Why do my cats get gooey eyes?
Every few months, both my outdoor cats get gooey eyes. Is it possible to treat them myself with some over-the-counter type of remedy? At the moment, I wipe them with a cloth and warm water.
If you notice any signs of squinting, redness, soreness, excessive discharge or green/yellow discharge from the eyes or are concerned at all, then this must be checked over by a vet. For normal brownish minimal levels of goo you can wipe it away with a damp tissue. It is important to keep the eyes clean as bacteria and viruses can live in the goo and the goo can irritate the skin it sits on.
I can't get rid of fleas – nothing is working! I've tried everything, any suggestions?
I would recommend that you visit your vet and talk to them about the most appropriate flea product to use on your cat. It is important to remember when treating your cat for fleas that only the adult fleas will be found on the cat and the flea eggs and larvae will be in the environment ie in your carpet and on your soft furnishings. It is therefore very important to treat the environment as well as any other animals that you have in the house for fleas.
Have a read of our advice on fleas and other parasites or download our fleas and other parasites guide.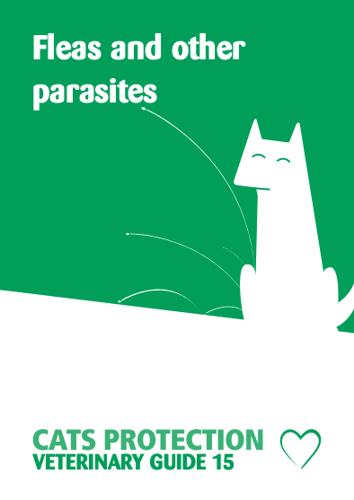 Why does my cat vomit after eating?
One of my cats keeps being sick pretty much straight after eating his food – he has James Wellbeloved complete dry cat food. Sometimes he is ok and is never sick after wet food. The food still tends to be whole, like he hasn't digested it properly. Yesterday there was some grass in it. He had a trip to the vet a few weeks ago after a cat fight and they checked for the sickness at the same time but his temperature was fine and they couldn't find an explanation for his vomiting, could he just be eating too fast or too much?
I'm sorry to hear that your cat has been vomiting. It is good to mention this to your vet as there can be a different underlying cause depending on whether this is true vomiting or regurgitation. If his diet has changed recently then this might be worth investigating. There are lots of diets available that are specially formulated for sensitive stomachs. Any diet change should be made very gradually over the course of one week to reduce the risk of a stomach upset.
Veterinary note: Please note that we are unable to give specific advice on your cat's health or any change in behaviour observed. For medical problems, consult your vet who will have access to your cat's medical history and will be able to examine them.
See our Veterinary Guides for further advice: https://www.cats.org.uk/help-and-advice/information-leaflets/veterinary-guides
Would you like to ask one of Cats Protection's feline experts a question about your cat? Don't miss the next live Facebook Q&A sessions: chat with Neutering Manager Jane Clements on 22 September; Behaviour Manager Nicky Trevorrow on 29 September; and vet Sarah Elliott on 12 October. All Q&As are held on Cats Protection's national Facebook page from 2-3pm. See you there!