Exclusive Cats Protection research has revealed how many owned and unowned cats there are in the UK
According to our CATS (Cats and Their Stats) 2021 UK report, there are an incredible 10.8 million pet cats in the UK, with 26% of households owning at least one kitty.

However, while we can pretty accurately identify the number of owned cats, there are many unowned stray and feral cats roaming the UK's streets and countryside too, and they're much harder to count.
The Cat Watch project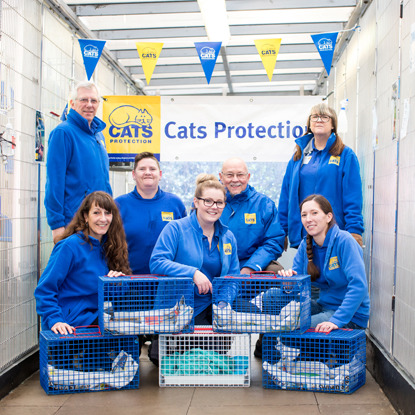 To try to get a more accurate figure of the UK's unowned cat population, Cats Protection launched the Cat Watch project in 2016. We've been working closely with local communities to encourage them to report unowned cats, either via our Cat Watch app, Cat Watch Facebook groups or in person to our Cat Watch teams, so that we can ensure they are well cared for. We do this by working with cat caretakers in communities to get the cats neutered to prevent more unwanted cats being born, and either finding them new homes or supporting residents with the help they need to look after them.
The project began in Bulwell, Nottingham and has expanded into other areas of Nottingham, Liverpool and Luton. Since 2016, over 3,900 cats have been reported to us in these areas, and as a result we have been able to get over 420 cats neutered and find new homes for over 520 stray cats.
The Cat Watch teams have also managed to change the attitudes of local residents towards cats, creating a positive increase in their feelings towards neutering as a way to improve cat welfare and reduce antisocial cat behaviour, as well as increase the residents' sense of wellbeing, confidence and connectedness within their community.
The number of unowned cats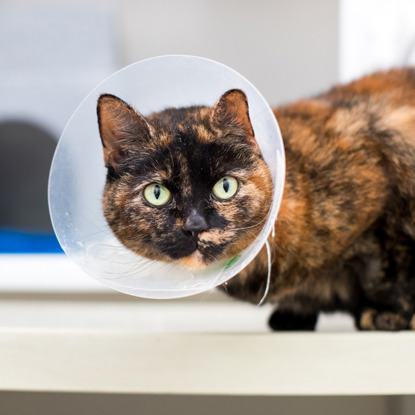 Thanks to the Cat Watch project we can now estimate that there are around a quarter of a million unowned cats living in the UK's towns and cities – that's roughly the human population of Southampton.
Sightings of unowned cats were collected over a period of one year from 3,101 resident surveys and 877 resident reports across five urban Cat Watch areas – Bradford, Dunstable & Houghton Regis, Everton, Beeston and Bulwell (both in Nottinghamshire).
These were paired with 601 confirmed locations from our community teams within a population model to identify key indicators of unowned cat populations.
Applying the findings to the rest of the UK's towns and cities using official urban population statistics allowed us to estimate a total figure of 247,429 unowned urban felines.
This ground-breaking first national estimate of the number of unowned cats has now been published in the journal Scientific Reports.
"Up to now, there haven't been any evidence-based estimates of the number of stray and feral cats in the UK," said Dr Jenni McDonald, feline epidemiologist for Cats Protection and lead author of the research.
"It has previously posed a challenge in part because of problems accurately distinguishing owned from unowned cats.
"However, our population-modelling methodology offers a solution, combining valuable data from residents with confirmed sightings, which gives us a robust means to study unowned cat populations nationally.
"This is a major step towards understanding the true scale of the feral and stray cat population in the UK."
The adventures of Six Dinners Sid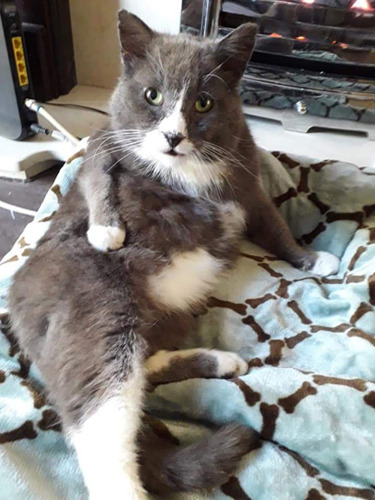 Within the Everton area, the Cat Watch team discovered one rather large cat who had acquired quite a following.

The grey-and-white moggy had been reported to them by local resident Jane, and after asking around to see if anyone knew where he came from, it was soon discovered that he had quite a few different carers and feeders! Jane and the team even managed to track his daily route around the neighbourhood, which involved several stops at different houses for food and cosy naps.

All of this roaming meant that he'd also acquired several different names from his many families; Terry, Smokie, Bear BB, Romeo, Cheeky Monkey, Mr Grey and Six Dinners Sid.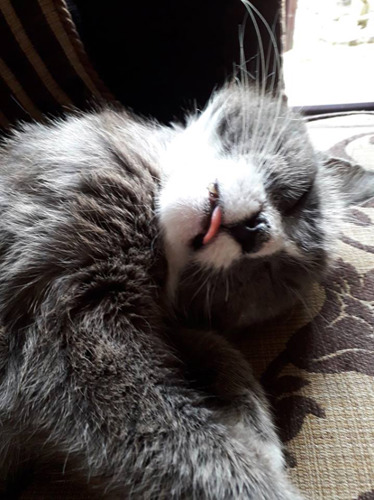 Shortly after his antics had been revealed, Sid became ill. His many carers all rallied together to get him the best possible treatment, but sadly his kidney disease was too advanced.

During this time, Jane took him into her home to give him all of the love and attention he needed, and when the time came for him to go, his entire family of carers gathered around him to say goodbye.

Jane said: "He was a huge cat with a large heart (and tummy!) and we all followed his adventures with relish. He was audacious, charismatic, greedy and fussy, demanding only the best fresh food, and could be grumpy if he didn't get his own way. He was a true gentleman and ambassador for every community cat making their way out there."
A new home for Tatty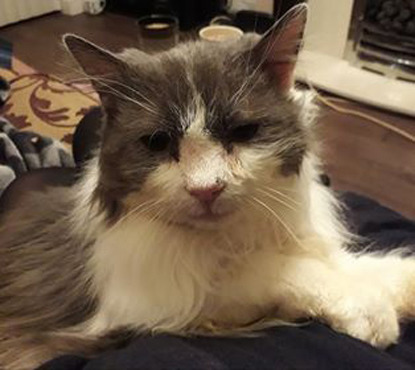 Shortly after Sid had sadly passed away, Tatty the cat appeared in another Everton resident's garden looking a little worse for wear.

He was reported to the Cat Watch team to see if his owner could be found, but he wasn't microchipped and no one came forward to claim him.

The team them took him to the vet for a health check and neutering, where he was found to be badly matted, covered in ticks, have a small growth on his eyelid and need some dental work to make him comfortable again. He also tested positive for FIV, but as he was so friendly the vets were confident he could be rehomed to an indoor environment.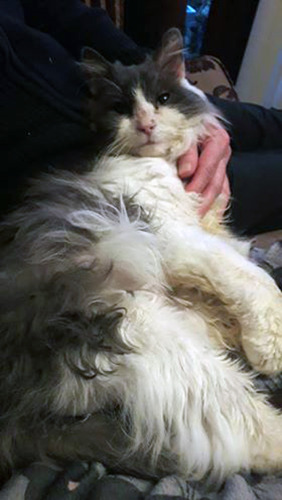 The Cat Watch team knew that Jane, Six Dinners Sid's primary carer, was looking to adopt a new cat after saying goodbye to Sid, and so introduced her to Tatty. It was love at first sight, and it didn't take Tatty, now renamed Bailey, very long to settle into his new home.
Jane said: "Bailey's a right cuddle monster. He's enjoying being pampered and spoilt! He is so funny and so like Sid/Mr Grey when it comes to food! He knows where the food is kept and sat at the door until I opened it! He loves chicken and the smell of a roast, he sat watching us eat ours making snorting noises."