Samantha is one of many people tricked into buying kittens when they are sick and much too young
There is a growing trend of cats and kittens being sold online, according to Cats Protection's Cats and Their Stats (CATS) 2021 report.
During the 2020/21 financial year, around 340,000 cats bought were found online on sites including Gumtree, Preloved, Facebook and Pets4Homes, accounting for 68% of all cats purchased.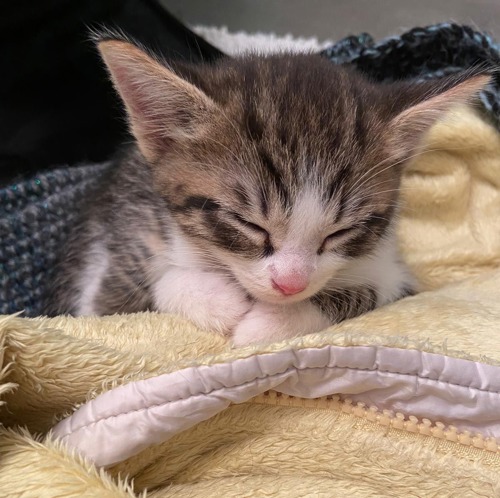 Tiny Franky was sold much too young to be separated from his mother
This contributed to an increase in the number of pet cats in the UK, which leapt up from 10.2 million in 2020 to 10.8 million in 2021. Just over one in four households (26%) own at least one cat.
However, the trend for buying online has also attracted unscrupulous individuals who have found ways around selling restrictions on pet websites and social media.
Over the same timeframe, Action Fraud, the UK's national centre for online fraud and cybercrime has reported an increase in kitten or cat fraud. In the 2020/21 financial year, 1,146 instances were reported to them, with cat buyers losing an average of £216 each - a huge increase on 2019/20 where only 190 instances and an average loss of £169 was reported.
We have also been contacted by a growing number of people who said they were mis-sold a kitten.
Samantha Webb from Truro was tricked when she purchased her kitten Franky after seeing him on Facebook in May.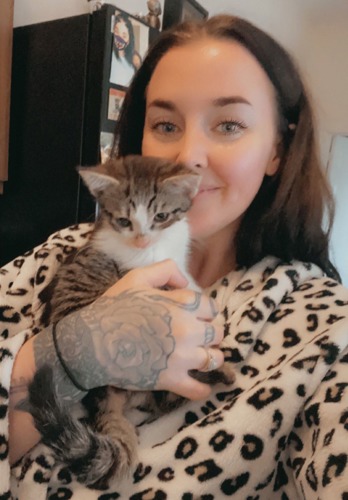 Samantha with little Franky
"I saw a photo of playful kittens with a caption saying '10-week-old kittens ready to go, mum can be seen' and I contacted the owner to arrange an appointment," said Samantha.
"On arrival, I was handed a frail and limp kitten who wouldn't open his eyes. He didn't resemble any of the kittens in the photo at all.
"I handed over an agreed fee of £30 just so I could get this poor kitten to the vet, who confirmed he was just four weeks old and had a neurological condition called cerebellar hypoplasia caused by his mum having a virus during pregnancy.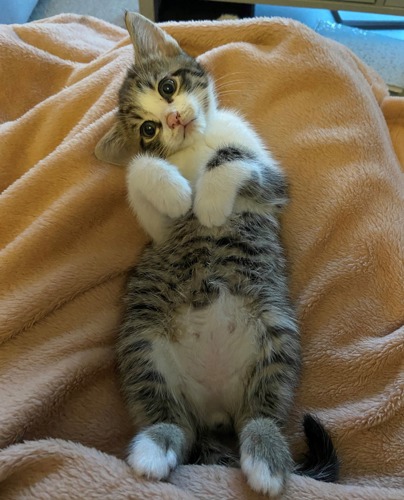 Franky was too poorly to survive 
"I tried to look after Franky at home but one night he fell into a disorientated state, drooling and whining and pressing his head against the wall. I rushed him back to the vet and despite doing what they could, Franky's condition quickly deteriorated and he had to be put to sleep.
"I've reported the incident to Facebook and the RSPCA. I feel it's so important that people are aware of unscrupulous sellers out there."
"Samantha's case is one of many that have been relayed to us by worried cat lovers," said Cats Protection's Advocacy & Government Relations Officer Stefan Blakiston-Moore.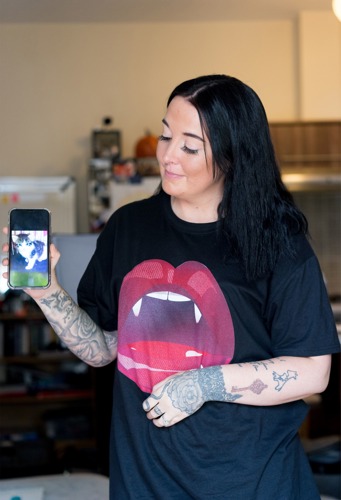 Samantha with the photo she first saw of Franky
"Adverts for cats and kittens may be misleading. Sellers will usually come up with ways to stop buyers seeing young kittens with their mum cat in their home environment, for example by stressing the need to keep to social distancing rules.
"This means in many cases kittens are handed over on the first meet up, with the buyer not realising that the kittens are sick, diseased or have severely impaired immune systems after being taken from their mum when they were too young."
TV personality and animal welfare campaigner Deborah Meaden has lent her support to our campaign.
"Online shopping has undoubtedly become a huge part of our lives – particularly during the pandemic. But when it comes to cats and kittens, buying online isn't without its risks," said Deborah.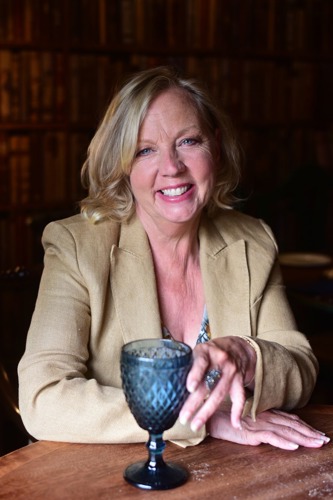 Deborah Meaden supports our campaign to stamp out the mis-selling of pets
"It is shocking to see how easy it is for unscrupulous sellers to operate online and put profit before kitten welfare.
"Consumers may find themselves duped into purchasing kittens which are too young or sick, leaving them with high vet bills, or in some cases, a kitten which tragically dies.
"Cats Protection's work with government and extensive advice to consumers is vital to ensure potential cat owners get a healthy and happy pet and stamp out the mis-selling of pets."
For guidance on what to ask when purchasing kittens, take a look at our helpful kitten checklist.
Top tips include checking the seller is licensed or registered with a local authority in advance, and visiting the seller to see the kittens with their mum cat before committing to any purchase.