Charity shopping tips: Becky tells us how to bag a bargain!
Bristol-based style blogger Becky Barnes is undertaking a new challenge for 2018 – to go without buying new clothes for an entire year.
For a self-confessed 'shopping addict' with a penchant for style, you might think this is no easy feat. However, while the trend for fast and disposable fashion is more popular than ever, Becky is adamant that second-hand shops are the way forward.
Ahead of her workshop 'How to charity shop like a pro', held at Cats Protection's charity shop in Bristol, we caught up with her to find out her motivations behind her challenge as well as her top shopping tips.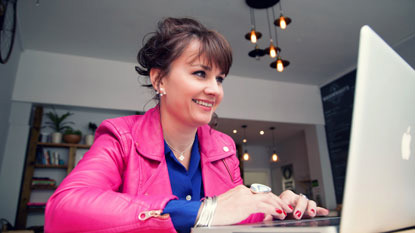 What made you first decide to take on this challenge?
For me, 2018 is all about reducing waste. I began by committing to reducing the single-use plastics I used but that quickly grew into reducing clothes and textiles too. Over 235 million items of clothing are sent to landfill in the UK every single year and I felt compelled to do something positive about it.
How do you plan to go without buying new clothes for an entire year?
It's not as scary as it might sound! I am allowed to buy new clothes; they just have to be second-hand. Popping to a shop on the High Street to buy clothes off the peg isn't permitted but lots of other options are. Charity shops, vintage shops, pre-loved designer shops, clothes swaps and so on. While it's my intention to source everything second-hand, I've listed a few areas where buying new is permitted – for example, underwear and swimwear!
Will you be doing the challenge alone?
It started off with just my cousin Caroline and me. However, I quickly realised the impact would be far greater if more people joined, so I opened up the challenge on social media and now have over 70 women participating. I'd love this number to grow, so if you're inspired please get in touch and let me know!
Why did you choose Cats Protection's retail store as the place to land your first event?
So many reasons. I chose that particular shop because it's one of only two concept stores in the UK. It is truly a unique shopping experience from the moment you walk through the door of the Gloucester Road shop and it seemed the perfect place to launch the idea. The shop has the most brilliant manager, Carl, who works his socks off to keep the shop looking fabulous. It is also situated within an area that has a dense population of charity shops, so once attendees have learnt from the workshop, they can continue to shop!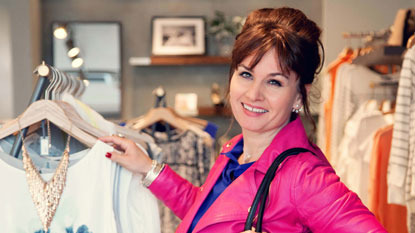 Can you give us a taster of what you'll be talking about in your first event?
I'm going to be joined by an eco-designer called Linda Thomas and between us, we'll share our top shopping tips we've picked up over the years. Linda gave up shopping on the High Street 12 years ago, so between us we have a lot of experience. We're going to cover the best approach to take, things to look out for, things to avoid and how clothes can be altered into something beautifully bespoke.
What is your ultimate top tip for charity shopping like a pro?
Get into the flow of it and slow your pace right down. The joy of a charity shop is that you never know what you're going to find, so by taking it steady and keeping your mind open to possibilities, you'll start to see the treasures slowly unfold around you.
What is your favourite charity shop buy?
I have found so many incredible things including a brand new pair of Jimmy Choo shoes, a Tiffany silk scarf and a beautiful necklace from an American designer which originally retailed for over $1,000!
If you'd like to attend Becky's workshop 'How to charity shop like a pro!', click here for event details. You can find Becky at www.beckybarnesstyle.com