How we'll socialise kittens Apple and Apricot as part of our Kitten Academy.
Follow the progress of kittens Apple and Apricot over the next few weeks in our Kitten Academy series.
Apple and Apricot are now three weeks old and already looking much bigger and fluffier than they did just a week ago. Apple, in particular, is very fuzzy and still twice the size of her sister Apricot, who is now looking more grey than black as her fur grows.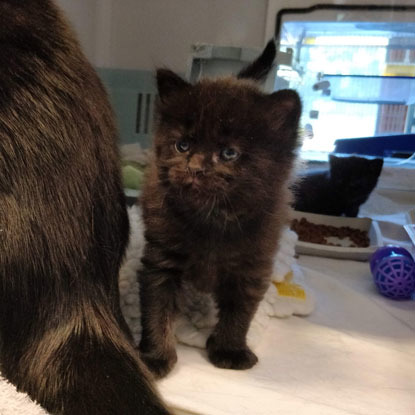 Fuzzy Apple likes to play
They are still keen to spend a lot of time with their mum Annie, but she enjoys a break every now and then, happily coming out of the pen for lap time and a fuss.
While she is purring away having strokes and head rubs, each kitten can be very briefly picked up and handled before being returned to their sibling inside the pen. When the mum is so affectionate, like Annie is, it helps to be able to work as a team of two socialisers for this, so that she can get plenty of attention too!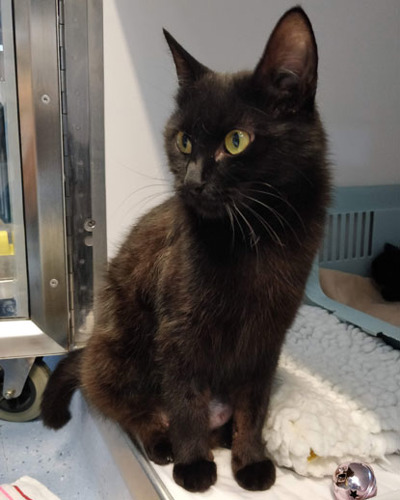 Annie enjoying some lap time
For cats, the tolerance of and desire to be around people is a learned behaviour, not a natural instinct, so it's important to gradually get them used to being handled early on. At six weeks old their fear response begins to set in, and so if they have not had any human contact before this age it becomes very difficult to get them used to people. Then after they reach the end of their socialisation period at eight weeks old, it becomes almost impossible!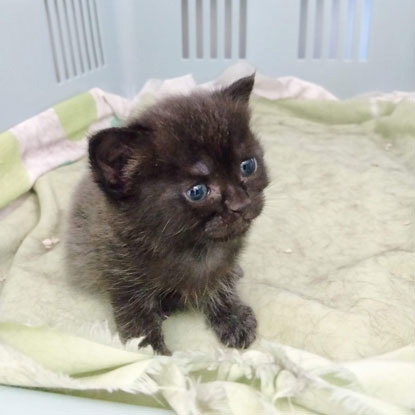 Tiny Apricot loves her mum
It's not just important to get them used to one or two people though. Ideally, they should be handled by a minimum of four different people, including men, women, children and older people. A kitten that has only ever been handled by women may grow up to be fearful of men, so Cats Protection is always in need of volunteer socialisers of all ages and genders to ensure the kittens in their care are well-socialised.
Between brief handling sessions, curious Apple loves to play with her shiny rattling ball, batting it with her paws and chasing it around the pen until she wears herself out. Meanwhile, Apricot is still very much a mummy's girl, preferring to spend her time snoozing with Annie. She clearly lets you know when she's had enough of being handled, as she starts to mew for mum! Annie is still doing an excellent job of doting on her little ones, regularly licking them to give them a wash and lying there very patiently as they try to catch her tail.
Come back next week when the kittens are four weeks old to find out how their socialisation is going!
Here's some more information about caring for kittens.