Kitten from People's Postcode Lottery ad finds new home
An adorable ginger kitten from Cats Protection's Warrington Adoption Centre has become the star of a recent television advert for People's Postcode Lottery.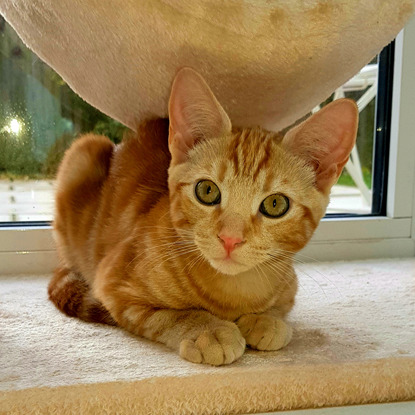 Nacho the kitten in his new home
Nacho the kitten was filmed for the #TogetherForCharity advert when People's Postcode Lottery ambassadors Danyl Johnson, an X-Factor star, and Judie McCourt, a radio and TV presenter, came to visit the centre.
He appears alongside some big celebrity names, including actors Carey Mulligan, Olivia Colman and George Clooney, but we think his cute face really steals the limelight!


Snapped up by his new owners
Since the advert was filmed, it was no surprise that Nacho quickly found his forever home with his brother Dorito and new owners Dave and Kerry Hudson.
Dave says: "Nacho is now called Ernie and his brother Dorito is now Bert. We didn't choose the cats, they chose us. Straight away they were playful and loving with us both, it was the best decision ever.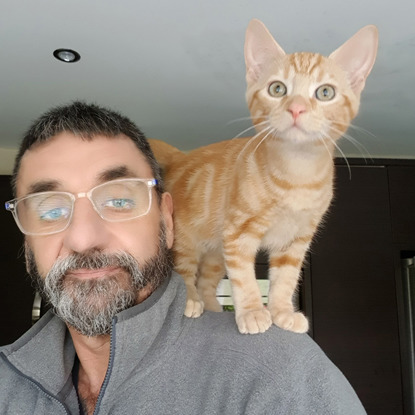 Nacho, now called Ernie, with owner Dave
"Both cats have such different personalities – Ernie is very patient and playful, he waits for his brother to finish playing with toys before he has a go. He so loving, always after cuddles and strokes and is very inquisitive, loves guests and loves exploring.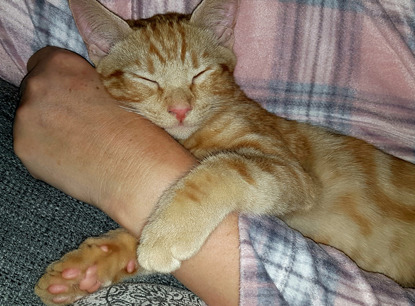 Ernie having a cuddle
"Bertie is a bit more quiet but seems to be the mischievous one, climbing, knocking things over and getting into places he shouldn't!
"They are best friends and play all day. They sleep together and won't let each other out of their sight. They both settled in immediately, there are three children in the house so they get so much attention and are having a ball."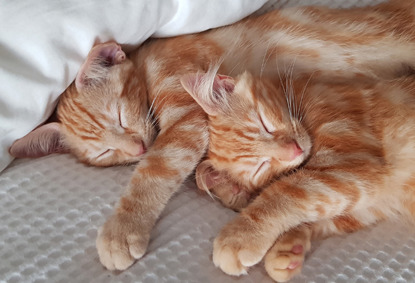 Bert and Ernie are best of friends 
Cats Protection is one of the many charities supported by players of People's Postcode Lottery, who have so far raised an extraordinary £500 million for charities and good causes.
We're putting their generous support to good use, funding cat care assistant roles at our centres so we can offer the best care to cats and kittens like Nacho.
To find out more about our work with the subscription lottery, visit our People's Postcode Lottery page.
To find a new feline friend to welcome into your home, visit Adopt a Cat to see the cats waiting for adoption in your area.