Kitten watch: Saying goodbye to Daisy and her litter of kittens.
We're pleased to announce that the adorable stars of our kitten watch series have now gone to their forever homes.
Although the staff and volunteers at Cats Protection's Bridgend Adoption Centre were sad to say goodbye to Daisy and her litter, they were thrilled that they will be shown lots of love by their new families.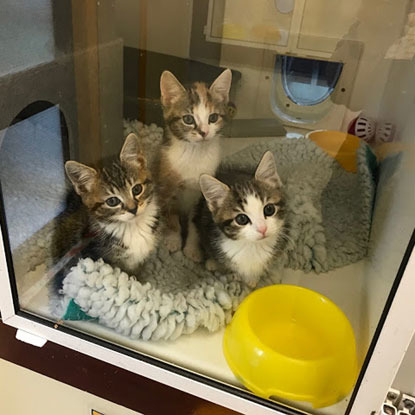 The kittens waiting patiently for their forever homes
Before they were put up for adoption, each of the kittens were microchipped, given flea and worm treatment and vaccinated against common feline diseases, preparing them for life in the big wide world. Their new owners have also been given vouchers towards the cost of neutering that they can use when the kittens are old enough for their operations.
It didn't take long for the kittens to find new homes, but staff at the centre made sure they'd found the perfect match by providing their adopters with all the information they needed.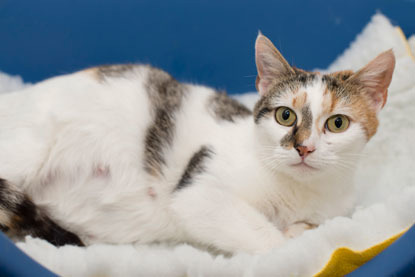 Daisy won't have to worry about getting pregnant again
Mum Daisy also now has a new family and can relax happily in her forever home knowing that she won't have to suffer the ordeal of having any more kittens, as she has now been neutered!
We hope Daisy, Dewi, Daffodil, Emma, and Eira have great fun playing and snoozing in their new homes and hope to provide you with an update on how they're settling in soon.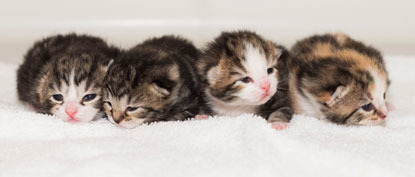 The kittens have grown so much in just eight weeks!
The staff at our Bridgend Adoption Centre would also like to say a huge thank you to everyone who sponsored Daisy and donated towards the cost of the kittens' care. Every penny helped and was very gratefully received!
Although the arrival of kittens is exciting, giving birth can be incredibly stressful for a cat and the kittens would need to find new homes, so we recommend getting them neutered from four months old. There are already thousands of cats waiting to find loving homes across the UK, so neutering is the most effective way to reduce the number of unwanted cats coming into our care. Find out more about the importance of cat and kitten neutering.