Cat quiz results: What sort of cat should you adopt?
If you're a cat owner you'll know just how important it is that an owner and pet are the right fit for each other, in terms of lifestyle, home and future plans.
For example, a kitten may need more attention than an older cat as they tend to have more energy, whereas older cats tend to be calmer and they are less likely to need supervision.
Everybody's needs and wishes are different so we put together a fun quiz to help our supporters decide what type of cat they should adopt. We were quite surprised by the results!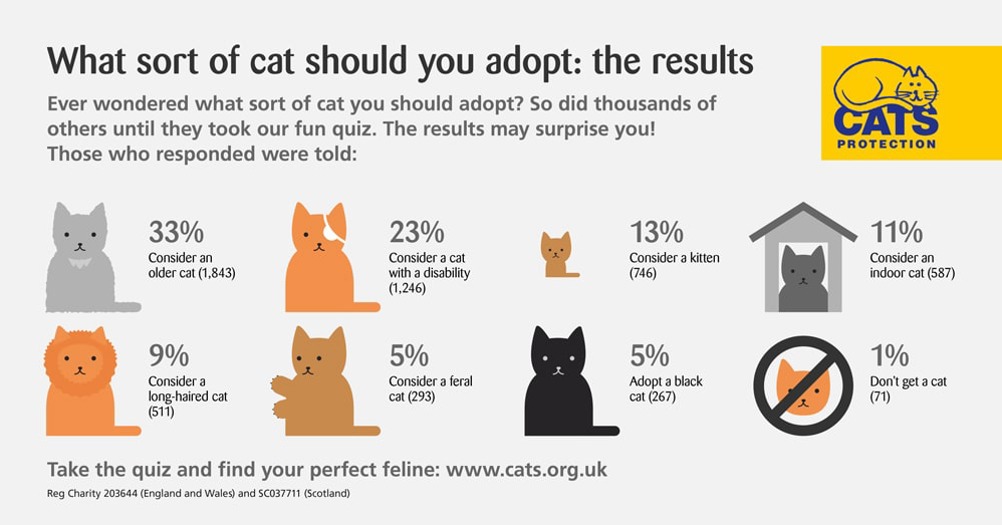 Finding the right cat for the right home
As you can see, 56% of people who took the quiz were told to consider an elderly or disabled cat.
Caring for an older cat in their twilight years brings tremendous joy and many owners actively decide to adopt an older cat because of the endearing qualities they can offer. With their wandering days behind them, older cats tend to stay closer to home and appreciate gentle affection. Find out more about caring for an older cat by reading our elderly cats advice.
Cats are generally very good at adapting their lifestyle to cope with a disability, allowing them to still enjoy a good quality of life. Our cats with disabilities advice describes cats with some more common types of disability – blind cats, deaf cats, three-legged cats and wobbly cats affected by cerebellar hypoplasia.
Our quiz is only designed to be a bit of light-hearted fun, but if you're serious about adopting a cat please get in contact with your local Cats Protection. Talk to them about what you are looking for so that they can match you with the right cat for you and your home.