Kitten watch: Daisy gives birth!
Follow the progress of Daisy and her kittens over the next few months with our kitten watch series.

Daisy the cat who arrived at Cats Protection's Bridgend Adoption Centre heavily pregnant has now given birth to four kittens.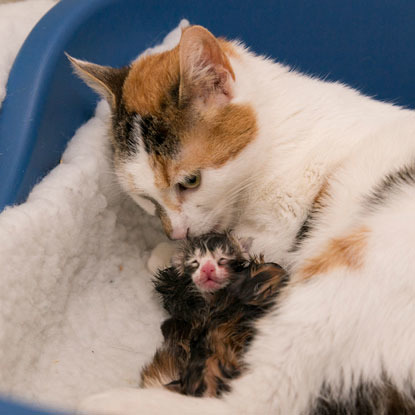 The three-year-old moggy went into labour at 8am on 1 March, while the centre was covered in a blanket of snow and surrounded by howling winds as a result of Storm Emma.
The Bridgend team battled through the bad weather to make it into the centre just before the first kitten arrived and thankfully had no need to rush Daisy to the vets in the treacherous conditions.
They made sure she was not disturbed throughout her labour, and as they watched from afar could see that Daisy had everything under control.
The first three kittens arrived one after the other, with each birth lasting 30 minutes. The fourth and final kitten arrived a couple of hours later, but all are happy and healthy.
Kittens are born with their eyes shut and ear canals closed, so they are heavily reliant on their mother. Luckily, Daisy is a relaxed but attentive mum and has been licking her kittens to make sure they are clean and stimulate them to go to the toilet. She has also been helping to keep them warm. As newborn kittens can't regulate their own body temperature it is important for them to huddle up to their mum and littermates to share body heat.
Fortunately the Bridgend centre's pens have underfloor heating to help make things nice and cosy, but there was a bit of a scare when the power went off on the morning of 2 March. Thankfully a call to the local power distribution board helped rectify the situation and the power was soon back on again.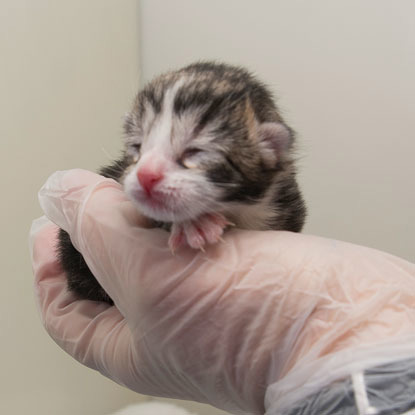 Straight after birth, the kittens began contentedly suckling on their mothers teats. Their first feed is particularly important as this is when queens produce colostrum, a type of milk rich in antibodies that will help protect the kittens from diseases. These antibodies last for six weeks or more but kittens can only absorb them during their first 16 to 24 hours of life and they should feed within two hours of birth. After their initial feed, the kittens now need to be fed every two to three hours, so Daisy has a lot of work to do!
Over the next few weeks and months, we will keep you updated on Daisy's and her kittens' progress, but if you would like to help towards the cost of her care at the Bridgend Adoption Centre then you can sign up to become a Cats Protection sponsor. Daisy is one of our many sponsor cats, so from as little as 19p a day you can sign up to help us provide her with the shelter, food, medical care and love she needs and receive regular updates about her and the other cats you are helping in return.
Alternatively, if you would like to make a one-off contribution to Daisy's care, you can donate via Bridgend Adoption Centre's Just Giving page.
Although the arrival of kittens is exciting, giving birth can be incredibly stressful for a cat and the kittens would need to find new homes, so we recommend getting them neutered from four months old. There are already thousands of cats waiting to find loving homes across the UK, so neutering is the most effective way to reduce the number of unwanted cats coming into our care. To find out more about the importance of neutering, visit the Cats Protection website.