Cat-loving author Alison Wainwright's new book profits will help unwanted cats.
Author Alison Wainwright put her talents to good use during lockdown to produce an illustrated children's book that raises money for cats in need. 
Alison from Bingley had some time on her hands as she waited to start a new job, and decided she wanted to write a book that could also help her community, based on her real experience with Bingo the cat. 
As a committed cat lover, and not living too far from our Gildersome Homing Centre, Alison wanted her work to benefit a feline charity and chose Cats Protection to receive all of the profits from each book sale.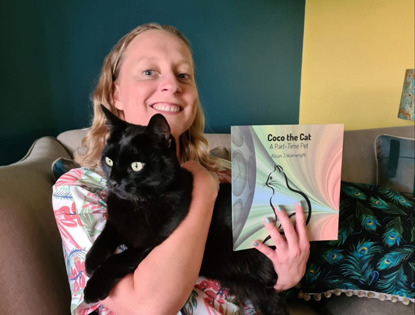 Alison with Bingo and her Coco the Cat book
Alison unexpectedly found Bingo when she moved in to her new home. The previous occupant of the house had left their cat with a neighbour. But Bingo did not understand the house was no longer his and kept letting himself in, following Alison around and helping her with gardening. 
Bingo has been transformed for Alison's book into Coco the cat, a moggy who struggles to adjust to a family move, before kindly neighbours band together to help. 
A graduate in English, Scottish and Classical Literature, Alison has enjoyed creative writing since she was young, and has gone on to have poems and short stories published. 
To create Coco the Cat she drew on her marketing and design background to create stylised illustrations, allowing the reader to use their imagination to visualise Coco and his adventures.
Alison aimed the book at five to eight years olds, wanting it to be a story they could either read to themselves or have read to them. The idea of it being a shared story between children and adults really appealed.
Once she had completed the story, Alison set about navigating the new world of self-publishing, which involves getting it on to bookselling websites as well as promoting it.
"It has certainly been a challenge getting the book together," said Alison. "Especially because I started a new job halfway through the process so ended up being extremely busy."
"But it has also been a great experience turning what was a hobby into something bigger. My proudest moment was when a friend who has read the story to her daughter sent me a video of the child singing a made up song about Coco the Cat." 
Alison has also penned another story, The Exchange Trip, which is raising money for Yorkshire Cancer Research.
Coco the Cat and The Exchange Trip are available to buy on Amazon.
For more fun activities to keep young cat lovers entertained, visit https://education.cats.org.uk/